"An invisible red thread connects those who are destined to meet, regardless of time,
place, or circumstance. The thread may stretch or tangle, but will never break."
- Ancient Chinese Belief
The Story of
清城乐
<![if !vml]>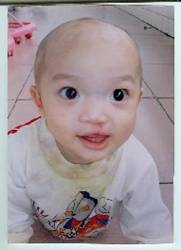 <![endif]>
Qing Cheng Le
Qing Cheng Le has spent nearly all of her young life in the Social Welfare Institute (orphanage) of the Qingcheng District in the Guangdong Province of the People's Republic of China. She was presented to this orphanage by a Qingyuan City policeman from the Yuantan Town District on September 8, 2004. This little girl, wearing purple cotton infant clothing and a yellow turkish towel, was given an initial examination and accepted into the tiny orphanage that would be her home for the next 19 ˝ months. The workers at her orphanage estimated her birthday to be August 24, 2004.
The day before Qing Cheng Le was accepted into her orphanage, another beautiful little girl who was estimated to be just one week older than our little girl was also brought to the Qing Cheng District SWI. The orphanage director wanted this little girl to be loved and respected by the workers as well as the other children. So, he gave her the name Qing Cheng Chang. Qing Cheng coming from the orphanage name, and Chang being the given name – like our first names. Chang comes from a Chinese fairy tale character, the beautiful lady in the moon. The next day, when our daughter was presented to the orphanage, she was given the name Qing Cheng Le – Le meaning happy. This was quite symbolic because Chang has a double meaning, and when Chang and Le are combined, it means "forever happy". It was the orphanage director's desire for these two little girls to remain together as happy friends forever.
Both of these little girls were born with cleft lips – the fourth most common birth defect in the world today and the most common facial birth defect. This simply means that their upper lips did not close completely while they were in the womb. Mia was also born with a cleft palate – meaning the roof of her mouth was open as well. As a result, she had difficulty eating and contracted respiratory illnesses more easily than normal. This led to relatively slow growth for her.
Half a world away, in the United States, a group of people formed an organization called A Mother's Love. This organization is dedicated to helping the orphans of China. As Qing Cheng Le was growing, albeit slowly, in the orphanage, this charitable organization was raising funds to travel to China to hold, rock, and love these little children. They were called to present their vision to a congregation. After their presentation, they left that church with far more money than they ever could have expected! Through the generosity of that congregation and others, A Mother's Love was able to fund the cleft lip repair surgeries for four little girls. Qing Cheng Le and Qing Cheng Chang were two of them! In May of 2005, the ladies from A Mother's Love were able to travel to Qingyuan (the city where the orphanage is located), and the girls received their surgeries! Since that time, Qing Cheng Le has had a much easier time eating, and her development has been great! One of the ladies from A Mother's Love tells us that Qing Cheng Le is tiny, but she is very sweet, and as her name implies, she is quite cheerful and happy!
Before the ladies left that orphanage, they decided to pray for these little girls – that they would be adopted soon into Christian families. That was in May of 2005 – the same time when we began to pray for God's direction as we began to seriously consider international adoption.
In April of 2006, two families from Missouri who lived less than an hour apart traveled together to the southern part of China to get their daughters. We were one of those families, and we are amazed at yet another instance of God's hand at work as he granted that orphanage director's desire. Qing Cheng Le and Qing Cheng Chang have each been given new families, new homes, and new names, but they are often still together and sure seem happy!