"An invisible red thread connects those who are destined to meet, regardless of time,
place, or circumstance.  The thread may stretch or tangle, but will never break."
                                             - Ancient Chinese Belief
The Story of
卫 单 女那
Wei  Dan  Na
Wei Dan Na was presented to the Social Welfare Institute (orphanage) of Guilin City on May 5, 2000 after being found by the policemen of the Xiangshan District.  She was estimated to be three days old, and was given the name "Na", representing the orphanage workers' wish that she enjoy a happy life.  Her referral documents say that "Na" means beautiful.  As near a translation as we have been able to determine is that Wei Dan Na means, "Beautiful Protected One".
Wei Dan Na was given several medical examinations by the Social Welfare Institute.  She was found to have a misshaped left ear and is believed to be deaf in that ear.
Her development has been normal.  She was speaking with simple words at about one year old.  She has participated in the Little Sisters Program sponsored by the Half the Sky Foundation since October of 2004.  She is described as "dancing better than other children" and being good at painting and handwork.  She is said to express herself and communicate very well, and knows some (very little) English.  She is said to be fairly quiet around strangers, but very outgoing once she warms up to people.
In December of 2005, Wei Dan Na's wish to be placed with a foster family was granted, and since then, she and a foster sister one year younger than her have lived with that family.
<![if !vml]>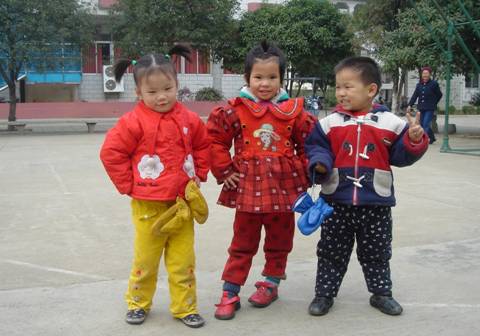 <![endif]>
          She has attended school since September of 2006.