Dad's Travel Journal from China
Wednesday, December 7, 2011
Last day in Guangzhou!!!  So excited to be on our way to Shanghai for a short visit with friends and then ON OUR WAY HOME!!!  We were a little disappointed at first when we found out that we wouldn't be staying at the White Swan in Guangzhou.  I guess we just wanted the familiarity.  BUT I have to say that it has been a blessing to stay at The Garden Hotel and have a chance to visit the shops and restaurants in this area.  It helped us to get through the "Guangzhou Blues" that most adoptive families can relate to – those last few days when you just want to be home.  No more tours, no more visits to spend money on jade, pearls, silk, or anything else, no more walks around the shops where everyone promises you the best discount – just to be home… in my soft American bed that doesn't feel like plywood with a thin foam rubber cover, …where I can brush my teeth with tap water, …where no smoking signs actually mean no smoking, …and best of all, where the rest of my family is!!!  OK, enough…  That sounds a lot like whining, and that's not me.
This trip has been a lot of fun.  We got to see things we weren't able to see on previous trips, and Garrett got to experience China for the first time.  The trip seems to have gone by more quickly than the others.  And Toby is doing really well.  We are so blessed!!!  If I don't get a chance to write again before we get home, THANK YOU to all of you who lended us your support and encouragement, and thank you to all who offered prayers on our behalf!  We have amazing friends, and we thank God for you.
Tuesday, December 6, 2011
We had our consulate appointment today, where we took, on Toby's behalf, the immigrant's oath that all of our statements made in effort to bring him into the U.S. were true and correct.  We verified that our paperwork was all in order and re-verified the spelling of names, the birthdates, the adoption dates, etc., and we were done.  We then headed to the zoo.  To our surprise, along the way to the zoo, our driver stopped at a music store.  We had told our guide that Garrett plays the drums, and she made a special effort to make this detour for us.  That was pretty cool.  He got to jam on a nice set for a little while, and Dad got to play around with some of the guitars.  Then, we were back on the road to the zoo.  In all of our trips to China, this was our first time to see a live panda!  Other than that, it was a pretty normal zoo, but it was nice to be out and about in the sunshine.  Check out the photo albums.  The afternoon and evening were uneventful.  We went out for a late lunch, Italian again, then back to the hotel to kick back and watch movies.  I guess I didn't realize how exhausted I was.  I fell asleep on the couch at 6PM.  Kim woke me up and said I should go to bed, and I didn't object.  I awoke at about 1:45AM, got a drink of water and went right back to sleep and was shocked when I woke up again to find Kim reading.  I asked her what time it was, and she said, "7AM".  I haven't slept that much in a very very long time!
Monday, December 5, 2011
Today, we had a little bit later start than normal.  We had our breakfast at a leisurely pace and then headed to Shamian Island for the nurse to verify Toby's TB test.  It was negative, which meant our last "hurdle" was cleared for tomorrow's consulate appointment.  We went back to Jordon's one last time to pick up something for Nolan, and to Michael's to pick up Toby's chop and some decorations Kim ordered.  We had to make the customary trip to Lucy's.  Garrett had heard us talk so much about eating at Lucy's while in China.  He was pretty excited.  Unfortunately, it was not good at all.  The quality of the food was never fantastic, but this time, it was downright awful.  Anyhow, we survived it, stopped at the playground for Toby to burn off some his energy, and then met our driver for the ride back to The Garden.  In the evening, we decided to visit Tekila, an "authentic" Mexican restaurant.  We were a little scared, but were impressed.  They had some Chile Verde salsa that was pretty amazing, and the tacos were actually pretty good.  Toby has a hearty appetite and likes to at least try everything that Dad and Garrett try.  He ate a pretty good portion of a taco and kept asking for more.  We had to draw the line for fear that his tummy couldn't handle it, but so far so good.  He continues to come out of his shell – becoming a bit more vocal and active each day.
Sunday, December 4, 2011 – updated
Had to add an update because our newest son is just stinking funny!  We were at dinner – he was having spaghetti, again – this time at an Italian restaurant in Guangzhou.  Garrett looked outside and noticed a white cat walking on a very narrow ledge on the fourth floor of the building next door.  We pointed out the "kitty" to Toby.  He watched with interest.  Then, the cat stopped on the ledge outside an apartment and sat there a while.  Soon, a light came on in the apartment, and the cat slipped in through the partially opened window.  Toby started jabbering like crazy, pointing to the window and raising his hands, palms up, as if to ask, "Where did the cat go?"  Then, from all we can tell after the comical game of charades that followed, he was telling me to take his spaghetti plate and put it on the floor for the cat to eat.  Amid all of his jabbering, he'd point at the cat, make a motion to his mouth (like I do when I'm asking if he's ready to eat), then point to the floor and back to the cat.  The expression on his face showed some genuine concern for the poor kitty.  I have a feeling he and Nate are going to get along really well…
Weekend, December 2-4, 2011
Quite an uneventful weekend here for us.  Friday was a pretty lazy day with the usual trip to the breakfast buffet and then packing for the trip to Guangzhou.  The flight was a smooth one, and Toby did fine.  He was understandably anxious and uncertain, and did not like it when I made him sit in his seat with his seatbelt on rather than holding him, but he survived.  We checked into the Garden Hotel, and I had to run to the hotel business center to make copies of Toby's passport and to an ATM to get money for our medical check the next morning.  When I returned to the room, all three of my companions were fast asleep.  I wasn't quite ready for bed.  So, I caught up on some news from home on the Internet.  Saturday included a return to "familiar territory" as we headed to Shamian Island for Toby's medical exam and then visits to the familiar shopkeepers, Jordon and Michael.  We were back at the hotel pretty early and then ventured out to the some of the surrounding businesses.  There are lots of western restaurants close to The Garden.  We chose the Paddy Field, an Irish pub.  It was really good comfort food.  Onion soup, fish and chips (some of the best I've had), chicken cordon bleu, and spaghetti Bolognese.  The spaghetti was for Toby, but he preferred the fish and chips.  Go figure…  We headed back to the hotel and watched a DVD movie, then just hung out – reading, playing with Toby, and finally eating some of our leftovers and peanut butter sandwiches before heading for bed for the best night of sleep so far on this trip.  Sunday morning, we got to Skype with the kids back home for a bit before we had to rush to breakfast.  We were a few minutes late to meet our guide for the tour of the day – the Yun Tai Garden, which is one of our favorites in Guangzhou.  It is a beautiful botanical garden, and the weather is fabulous today.  Temps are in the 70s, and the recent cold front has cleared the air of smog quite nicely.  So, blue skies and the smell of roses made for a very nice December 4th.  Toby really seemed to enjoy it, and I think seemed more comfortable today.  He has gone back and forth between Kim and me fairly willingly (although he keeps his eye on me and gets very anxious if he can't SEE me nearby).  He did a fair amount of walking through the garden, then asked to be carried, then asked to ride on my shoulders, then walked some more…  Many more smiles today, and we're grateful for that.  Hopefully, his newfound level of comfort with his new parents is evident in the pictures.  One thing that probably isn't as evident as I'd like is one of the other things I love about coming to China…  I've eaten like a horse, and I've still lost 9 pounds on this trip!
Thursday, December 1, 2011
How can it possibly be December already?!  I can't believe how quickly time is flying by these days!
We had yet another uneventful day today.  We planned another late start, which turned out to be a blessing.  We had some really good conversation at breakfast with a couple of other adopting families from the states.  It's always encouraging when we get to talk to other families who are going through the process.
After breakfast, we walked part of the ancient city wall and the museum.  There was some pretty neat local history.  Garrett played family photographer for us again.  He challenged me to an archery competition before we left, and we discovered that we are both really bad at it.  J  The arrows we used were in pretty bad shape – some were completely missing their feathers.  So, in our defense, I don't think even the best archer could have made one fly straight.  Neither of us did well enough to claim victory, and I think the Chinese spectators are glad they didn't have to rely on us to defend the wall.  We had fun, though.  Then we returned to the hotel and ran into one of the aforementioned families who were on their way to lunch and invited us along.  We accompanied them to the mall restaurant, "Tacos", where Toby ate spaghetti at a Mexican restaurant in China…  The food wasn't all that great, but their version of fajitas was a nice break from noodles and dumplings.  The mall also had a kids play area, which Toby loved.  He played in the ball pit, slid down a lighted slide, climbed on all sorts of padded platforms and playthings, and had a blast.  We heard a few belly laughs from him.  I thought we'd have a hard time getting him to leave willingly, but it wasn't bad.  I told him it was time to go, and we headed to the spot where we had to leave our shoes.  He wasn't really whining or anything, but pointed back to the slide and asked something I couldn't understand.  I told him, "One more slide," holding up my index finger.  He nodded.  I put him down, and he bolted for the slide.  He slid with a mile-wide smile and came back to me, all ready to go.  We put on our shoes and headed downstairs to the treat I had promised his big brother – Stone Cold Creamery.  There we discovered that ice cream is a little too cold for Toby, but he is definitely a fan of hot chocolate.  We headed back to the hotel and hung out the rest of the day.  We opted for instant soup and peanut butter sandwiches for dinner, then went to bed early.  I was able to Skype with the kids back home early Friday morning (mid-day Thursday for them), and that was a blessing.  Homesickness is really starting to set in, and we miss them so much!  Please continue to pray for Toby's transition into the family.  Overall, things are going really well, but this is never easy.  We need God's wisdom.  Love to you all, and thank you for your support and encouragement.
Wednesday, November 30, 2011
We had a fairly uneventful day today.  We got a fairly late start.  After tidying up our room a bit and having breakfast at a leisurely pace, we met our guide for a tour of the silk weaving museum.  Apparently, Nanjing has been the "official" silk weaving factory for the long line of emperors in Chinese history – or at least for the Qing dynasty.  Garrett did a good job of playing family photographer for us today.  It was pretty cool seeing how the weavers do their work, and it's pretty amazing how, even centuries ago, they could work the intricate details into the fabrics.  The tour wasn't long, but we weren't ready to head back to the hotel just yet.  So, we talked the guide into taking us somewhere else.  It was cold and rainy, and indoor options are a bit limited.  So, she suggested the jade factory.  We've done the jade factory sales pitch far too many times and promptly vetoed that one.  So, we ended up at Aqua City – the local westernized shopping mall.  Nothing exciting there, but we did stop at a Chinese restaurant on the way back to the hotel, just around the corner from the Mandarin Garden.  They treated us very well, and the food was good (although Garrett would disagree).  Afterward, we returned to the hotel and just hung out.  We watched How to Train Your Dragon on TV.  We'll have to keep an eye on Toby's TV time.  He was watching intently and protested when I turned off the TV after the movie.  Today was a rough day for him.  Our experience has been that the day after the orphanage visit is always tough on the kids – at least it has been for all of ours so far.  He started out refusing to go to Kim and only allowing me to hold him or play with him.  Then, he started testing the waters with her.  He's been really good about keeping his crayons on his coloring book, but today, he decided he wanted to try to write on furniture, and started giving Mom "the look" when she corrected him.  I tried to take over as the disciplinarian and let her just hold him and love on him.  So, he decided to disobey me, too.  It turned into an afternoon of him testing the limits, us asking him to stop, him shaking his head at us, us removing the temptation (taking away the crayon, putting away the toy, moving him to a different room, whatever…), and him crying.  Nothing out of the ordinary, really – but it's still not a lot of fun.  On the upside, in between the "testing phases", Toby did smile a little more and seemed a little more comfortable.  He seems to have a mischievous sense of humor and a cute giggle.  He has decided that "shoes on" means, "let's go."  A couple of our friends sent some supplies with us for their cousin who lives here in Nanjing.  While the cousin was here with us, Toby kept bringing me his different pairs of shoes and saying, "Choose on."  So, I'd take off the ones he was wearing and replace them with the ones he brought, thinking this was just some sort of game.  After each pair went on, he'd run to the door.  I assumed he was doing the typical "boy thing", checking to see which pair was faster or some such thing.  When we weren't getting the point, he finally hollered from the door while pointing at the doorknob, "CHOOSE ON!"  It finally dawned on us…
Tuesday, November 29, 2011
What a day today has been!  We are still not quite over the jet lag yet – struggling to stay up as late as we can, and yet still waking up at 4 or 5 in the morning.  So, we had plenty of time to get ready for our 9AM visit to the Civil Affairs office to finalize the Chinese side of Toby's adoption.  Toby was up by 6:30, and we made our way to the hotel restaurant for breakfast.  He ate fairly well, but spent a lot of time looking around and soaking in every detail of his surroundings.  He doesn't miss a thing!  After breakfast, we headed back to the room to give him a bath and dress him in multiple layers of clothing to avoid chastisement from the Nai Nai patrol on this brisk morning.  (In China, the older women have no problem scolding parents if the kids aren't bundled up like they're going on an Arctic adventure.)  The paperwork "ceremony" seemed much less formal this time around.  I'm not sure if it's because we're familiar with the process and knew what to expect, or if it's because Garrett was invited behind the officials' desks to take pictures while we signed the documents.  Whatever the reason, it was very relaxed and not at all stressful.  We were done in short order and on our way to Toby's orphanage to allow him some time to say his goodbyes.  We're convinced that these visits are helpful for the kids, but they are never without unexpected emotions.  Toby's orphanage is a fairly large one, and the room where he has spent most of his days there is full of boys – many of whom are considered "unadoptable" due to their special needs.  When we arrived, we saw the nannies and some of the boys in the second story window waving and calling out, "Fei Fei!  Fei Fei!"  (Toby's Chinese name)  His eyes lit up, and he smiled as the nannies hugged and loved on him, but he never let Mama and Baba get too far away.  His primary nanny played with him, showed us where his crib was, and looked at the pictures we had of the rest of our family.  Toby would go to his former caregivers and talk and smile.  Then, he'd run to his Mama and throw his arms around her.  My attention was drawn to several of the boys who will never have the chance to have families.  One of them struggled to crawl to me and tugged at my pants leg.  The nannies seemed a little shocked when I plopped down on the floor and picked him up and held him tight.  I just couldn't let all of that boy's work go unrewarded.  The smile that came on his face was priceless!  I spoke to him the best I could in my broken, terrible Chinese.  I don't think I said anything that made any sense, but he never stopped smiling.  I put him back down on the padded floor after a few minutes and made my way around the room to interact with as many of the boys as I could before we had to leave.  We went downstairs for the formalities of some gift exchanges and pictures with the orphanage director and "lead" nannies.  Then Toby wrapped himself around his mommy like a koala bear and we headed for the van.  Once we got in the van, he climbed into my lap (never fear – that's how we roll in China), turned himself around to face out so he could see, wrapped his little hands around my thumbs tight enough to make GI Joe (with the Kung Fu grip) jealous, took one big sigh, and promptly fell asleep.  Closure can be a great thing…
One more somewhat humorous story before I sign off:  We returned to the hotel and realized it was probably time to get Toby some lunch.  We weren't really interested in battling the language barrier and guessing at ordering in the Chinese restaurants.  So, we opted for Pizza Hut – and the Pizza Hut here serves rice and noodles, as well.  So, we felt sure we could find something Toby would like.  Oddly enough, they also serve waffle-cut French Fries, which we ordered as an appetizer.  Toby kept pointing to them as we ate.  So, I cut some up, put them on his little plate, and spooned some ketchup next to them.  Kim laughed at me because NONE of our kids from China have liked fries or ketchup AT ALL until after they've been with us for a while.  Not so this time.  He watched me dip a fry and eat it, and the boy went to town on those waffle fries.  With each bite, he'd dip into more and more ketchup, and when his rice and veggies arrived, he had absolutely no interest!  So, it's taken us approximately one day to turn our boy into a junk food junkie!  (No worries.  We'll return to more healthy choices at dinner tonight, but we had a blast watching him have a few fries with his ketchup.)
P.S.  While Toby napped this afternoon, Garrett and I went for a walk.  It was misting a bit outside, and apparently the roads got really slick.  We saw two scooter accidents in the span of 5 minutes.  Then, Garrett got his first taste of Walmart in China.  I took him through the meat department to see the assortment of fresh squid, octopus, and eel, and he got a big kick out of watching an older lady literally use a net to catch her choice of live fish from a tank for a fresh dinner.
Monday, November 28, 2011
<![if !vml]>
<![endif]>Today is the day we've been waiting for!  We got to meet Toby this morning for the first time!  He seemed to be well-prepared, and it was obvious that his caregivers have been showing him the pictures we sent him back in the summer and telling him who we were.  He has already addressed us as Ma Ma and Ba Ba on several occasions.  He was very shy at first, giving us an occasional glance, but no eye contact.  We saw a few smiles as Kim took out some toy cars and played with him a bit.  He let us hold him without any tears or resistance, and he loved the Cheerios we brought for him to snack on while we did paperwork.
I pulled a boneheaded move and brought the camera but left the SD card in our hotel.  So, we had to resort to taking pictures with my cell phone.  Actually, Garrett took on the roll of photographer and did a fine job.
After the paperwork, we stopped by a Carrefour supermarket to pick up a few things.  Toby was pretty excited.  I was carrying him, and a couple of times, he'd yell out, "Ba Ba, <something in Mandarin>!!!"  I had no idea what he was saying, but it was surprising that he was so expressive.
On the way back to the hotel, he looked at me, scooted himself over to the side in my lap and threw his body back to lay down in my arms, and almost instantly fell asleep.  That lasted until we got to our room and I laid him in the crib where he promptly let out his first wails and reached for me with a fair amount of panic.
He has a bit of a cold right now with sniffles and a mild fever, but he seems to be in good spirits.  He's been pretty cuddly with both of us – partially, no doubt, due to the grogginess from the cold medicine.
It's so hard to believe we finally have Toby in our arms.  The feeling is surreal.  It is obvious he has been well cared for, and his nannies did a wonderful job of teaching him.  He has enjoyed playing with his cars, drawing on his MagnaDoodle, and coloring today (in between periods of snuggling with Mom and Dad).  We're so blessed and so thankful to God for this new addition!
Sunday, November 27, 2011
<![if !vml]>
<![endif]>On our final day in Beijing, we visited the Forbidden City (which George the Dog enjoyed very much) and Tian An Men Square.  The Forbidden City was pretty neat since we just studied about it with the kids not too long ago.  It's pretty amazing to see structures made of mostly wood that have lasted, in some cases, nearly 600 years.  It was a beautiful day – great for getting out in the sunshine and working to clear jet lag.
We then went to Tian An Men Square and then on to lunch.  George elected not to have his picture taken on the Square.
Saturday, November 26, 2011
<![if !vml]>
<![endif]>Well, it took us three trips to China to finally make it to The Great Wall, but we did it!  (And I have the sore quadriceps to prove it!)  It was pretty cold and windy, but Garrett and I had to climb a little way up just to be able to say we made it.
We also toured the jade factory and had a tea ceremony (also known as attempts to sell stuff to us) then took a quick trip to the grocery store for some bread and water.  We plan to get out and walk a little bit this evening to help clear the jet lag, then it will be back to the room for peanut butter sandwiches.  J
<![if !vml]>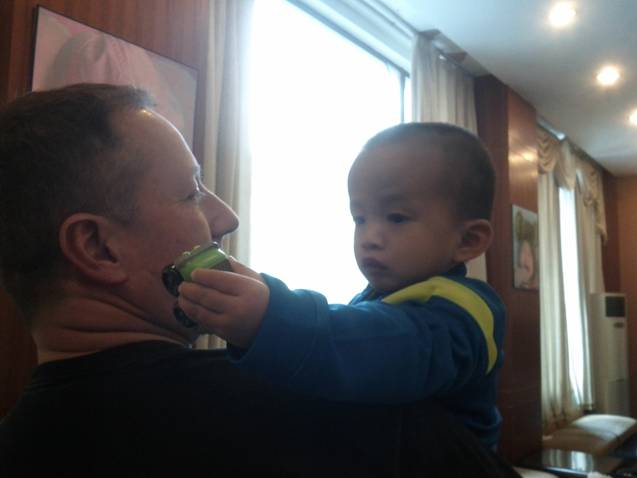 <![endif]>Oh yeah, we also drove by the Olympic park area and got to see the Birds' Nest, Water Cube, etc. from the 2008 games.  You can sort of see the Birds' Nest over Garrett's right shoulder.
A fairly uneventful day.  Hoping for a good night's sleep to ease the effects of jet lag so we can be clear and focused when we get Toby!
Also hoping the Nanjing isn't quite as smoggy as Beijing.  The pollution is wreaking havoc on my sinuses!
Just two more days until we meet our newest son!  We are SO excited!
I'll add pictures to the photo album after our touring tomorrow.  Thanks for all of your prayers.  We are feeling them, and we appreciate them.
Friday, November 25, 2011
Greetings from Beijing!  We made it!  It's a little after 2:30AM here.  Just wanted to let you all know we had a fairly uneventful trip.  It was long, but safe.  Time for a little bit of sleep before our touring later today.
And for the kids back home, George the Dog enjoyed the trip, as well as the Dunkin Donuts and Starbucks at the Chicago airport.
<![if !vml]>
<![endif]>
Itinerary:
Nov. 24th & 25th – Missouri to Beijing
Nov. 26th – Beijing touring
Nov. 27th – Travel to Nanjing
Nov. 28th – Gotcha Day
Nov. 29th-Dec. 2nd – Nanjing
Dec. 3rd – 7th – Guangzhou
Dec. 8th – Shanghai
Dec. 9th - HOME