August 9, 2007 – Ready to Head Home!
      Our last full day in China has been relatively uneventful.  Breakfast, the traditional "red couch" photos, a final lunch at Lucy's, a quick visit to Jordon's store, and one last swim for Ba Ba and the girls while Ma Ma began the packing.
       We'll order Papa John's tonight and have our last serving of instant noodles on standby for Mandy.  I'm sure that will be followed by a sleepless night as we anticipate our trip home.
       We want to thank everyone for your prayers, for your supportive emails and phone calls, and for your guestbook entries.  You helped make this trip an enjoyable one!  We are blessed to have friends like all of you, and we hope you've enjoyed tagging along with us.
       While our trip is coming to an end, our journey with Mandy is just beginning.  We look forward to watching her grow, get to know her brothers, get a new ear (which she is terribly excited about, by the way), learn to eat pizza and Mexican food (I hope), and most of all learn of the love Jesus Christ has for her.  For those of you who will continue to take part in this journey with us, we thank God for you!
       I hope to have an updated entry on the blog page once the jet lag subsides.  Good evening from Guangzhou, and God Bless You!
August 8, 2007 – Visa Day
      The big milestone of the day was picking up Mandy's Chinese passport with her U.S. Visa.  She now has the green light to enter the United States, and when she does, she will become a U.S. citizen!  Friday afternoon in Detroit will be a very special time for us as we clear customs, hug our American girl, and rush to our next flight home!
       Other than the Consulate visit, today was uneventful.  I had to wake Mandy up for breakfast, and she was NOT ready to get up.  That set the tone for most of the day.  During our wait for travel approval, I prayed for our seven-year-old princess and wouldn't you know it, we got a seven-year-old princess!  J  There was plenty of whining about breakfast, whining about the heat as we walked about, whining about taking pictures (hence the dearth of Mandy pictures in today's album and the abundance of Mia pics), whining about lunch, whining about dinner, and whining about just about anything else you can think of to whine about!  I'm not sure what the deal was, perhaps some odd form of grieving since her world has been turned upside-down, or perhaps she's just being a seven-year-old.  Fortunately, the whining did subside a bit as the day wore on, and we enjoyed some playful times together.
I am in awe that we have now spent nine days with our new daughter, faced differences in tastes in food, huge language barriers, and basically ripped her away from everything "stable" she's ever known, and the biggest "problem" we've faced is a bit of princess whining.  J  We are truly blessed!  Oh, I know we'll hit some bumps in the road when we get home, just as we did with Mia, but it is amazing how well God prepared this little girl for her family and her family for her!
In spite of the "Guangzhou Blues" (the almost depressed state families seem to enter during the last few days of this trip when things slow down and there is little to do but wander around Shamian Island and look at shop after shop of cheap trinkets), this trip has been amazing!  We are SO glad we got to see a part of China outside of Guangdong, and the relatively smooth transition thus far has allowed us to enjoy interaction with the people here.  Thanks for your prayers and support from back home!  We love you all and can't wait to see you!  It won't be long, now!
August 7, 2007 – Another update
      Well, after my journal entry, below, we went swimming and returned to order from Danny's Bagel (a local delivery restaurant well-known to adoptive Western families).  We are now waiting for our food, and there are a few other random thoughts to share.
       My favorite color is yellow.  It is rare to find someone else who likes yellow.  In fact, I can't think of ever meeting anyone else whose favorite color was yellow.  Guess what Mandy's favorite color is!  That's right!  Yellow!
       We've heard some funny things in China, and I wish I could remember them all.  Here are two:
       While I was wearing my Texas Aggies cap with the A&M logo (ATM), one young Chinese woman said, "You must work at a bank!"  J
       While checking into the White Swan, a guide from another group was asking about our girls (who were sitting with Mom across the room).  She asked if we were adopting "the little one".  I said, "No, we adopted our almost-three-year-old last year.  We're adopting the older one this time.  "Her?" she asked, "You're kidding me!  She looks American!"  J
       Now some thoughts for those who are awaiting their time to travel to China for their children…
We've had laundry done at several places on Shamian Island between our two trips, and our hands down favorite is Andy's Place.  Their prices are reasonable, and our clothes came back in fantastic shape and smelled clean, which isn't always the case, as many of you well know!
Many folks, in response to my request for suggestions, mentioned the cards the White Swan concierge has for families to communicate with taxi cab drivers.  I'm not sure if they didn't have those last time, or if we were just clueless.  J  Last time, we just had someone write down where we wanted to go – handed it to the driver, and showed them our hotel card key to get back.  This time, the concierge card came in quite handy.  It lists many of the popular attractions in English and Chinese.  You just check off where you want to go and hand it to the driver.  It has the White Swan logo for the return trip.
We got a suite at the White Swan this time.  I would recommend this for any adoptive family who can afford the extra fee.  The extra space makes the "Guangzhou Blues" much more bearable!
Finally, when your older child will eat nothing else, the instant noodles in the big cardboard bowls and a can of Pringles (both available at Beatrice's on the island) are a welcome FEAST!
(Ever wonder why we don't have anything like those cute little green Watson's Water bottles in the states?)  J
OK, I'll shut up for now…
August 7, 2007 – Just a few more days
      We slept in a little later than normal this morning.  Our guide was taking our paperwork to the U.S. Consulate this morning.  So, we needed to hang out for the phone call to tell us all was well.  We woke up and were laying in bed watching the news when Mandy climbed into our bed, laid her head on my shoulder, and smiled and said, "Gooda morning!"  What a priceless moment!  J
After today's breakfast buffet, we walked to the exercise park.  We met James, there.  He is a young Chinese man who wanted to practice his English.  He is also a sports fan.  We talked about the Michael Vick situation and how sad it is.  We talked a little about the NBA until James figured out I know very little about it.  J  All James knew about baseball was, "Boston Red Sox!"
       We returned to the room, and the phone call came at about noon.  Everything was fine with our paperwork, and we'll get Mandy's U.S. Visa tomorrow afternoon!  Finally, we're on the downhill side of the trip and can get home to our boys soon!
       Mandy and I went to the electronics market after lunch while Mom caught up on her journal and Mia napped.  It was a multi-level mall full of stores.  It was very crowded and loud.  We saw everything from home entertainment systems to games to office machines and laptops.  Of course, everyone was very eager to sell us something.  I was disappointed that the prices weren't quite as discounted as I had heard.  Some things were even more expensive than in the U.S.  So, I went from store to store haggling for the best deal on the few things I wanted.  I know some people love to bargain and get a "deal".  I'm not one of them.  J  I know it's necessary here, but I'd much rather look at a price tag and know that's the real price and determine if I think it's worth it or not.
       I didn't make it to the guitar shop today, but hope to go at least once before we head home.  I think it would be fun, even if I don't buy anything.
       Mandy's English is coming along slowly but surely.  At meals, she now says, "All done" when she's finished with something rather than yelling, "No No No!"  She's communicating much better, and we've figured out each other's hand signals.  That has eliminated some of her frustration.
       We had the chance to talk to the boys again today and enjoyed that.  We are SO ready to be home with them.  Mandy asks about them every day, and Mom, Mia and Dad miss them terribly.  We'll be home, soon, boys!
August 6, 2007 – Our 13th Anniversary
      Today is our second full day in Guangzhou for this trip.  Have I told you how much I like Nanning?  J
       It is also our 13th wedding anniversary!  It's hard to believe, but it's true!  I asked Kim this morning if she remembered the time when we thought anyone who'd been married for 13 years was "old".  J  I guess that says something about us.  J  Oh well, we're still in love and enjoy each other's company.  So we must be doing something right!
       Mandy's medical exam was today.  It was kind of humorous.  One of the nurses wanted to be sure we were aware she had a mis-shaped left ear.  (Ha Ha.  I started to act surprised, as if we hadn't noticed it until then, but thought better of it.)  She's a whopping 43 pounds and 3 feet 10 inches tall – about like her 5 year old brother!
       After the medical exam, we went to the Chen Clan Academy.  The building was used to train boys and men from the Chen clan to take the important tests in Beijing in ancient times.  Their test scores determined the types of jobs within the government they would be allowed to undertake, as well as whether or not they would be allowed to attend the university.  Now, the building is a museum where embroidery, porcelain, bone carvings, and other artwork from this part of China are shown and sold.  We visited the academy during our last trip to China.  So, we were thankful that the other family with us wasn't all that interested in it, and our guide hurried through the tour.
       This was the only scheduled tour for us during our visit in Guangzhou.  So, I guess we'll be on our own for any more site-seeing.  I'm sure we'll find some things to do off of the island because I don't think we can sit in the hotel, as comfortable as it is, for the remainder of the week.  Suggestions from the BTDT crew (those who have been there and done that) are welcome.
       We completed our paperwork this afternoon for submission to the U.S. Consulate.  Our guide will take it to them tomorrow.  If everything is in order, we'll do our "swearing" to take care of Mandy on Wednesday, and we'll have her U.S. Visa then.  Unfortunately, no flights were available on Thursday.  So, we're here until Friday.
       Mandy and Mia have had a little sibling rivalry going on this afternoon.  I guess the "new" is wearing off.  J  They've fought over coloring books, places to sit, Daddy, drink cups, Pringles, and just about anything else you can think of.  I guess the "new" is wearing off of Ma Ma and Ba Ba, too, because Mandy has been a little bit upset with us for not letting her do whatever she wants to.  Instead of accepting it when we say, "No," or "Later," she has started whining a little bit.  She has the head-tilted, eyelash-batting, "Baaaa Baaaaa" down pat!  J  I think she learned that from Mia.  I wouldn't expect any less from my princesses.  J
       One thing I forgot to mention, and I don't know if Kim wrote about it…  Mandy and Mia were watching the Barbie Nutcracker Suite video.  Mandy called Ba Ba and Ma Ma into the room and said, as she pointed to each of us, "Barbie you Ma Ma.  Eric you Ba Ba."  So, Kim is now Barbie, and I'm Prince Eric.  (Ha Ha)  Later, we were eating on the patio at Lucy's, and a wedding photographer here on the island was taking pictures of a couple dressed in their wedding attire.  The wedding dress was beautiful, and I pointed it out to Mandy.  She watched them with excitement for a long time.  Her eyes were as big as saucers.  Finally, she turned around and pointed at Kim and me and acted out a wedding (in Chinese, of course, but we got the idea).  Then, she acted out us kissing.  Then she exclaimed, "And THREE BRUDDERS!!!"  She has it all figured out.  J
       I think I'll close for now.  The pool is calling my name!
       I'm back.  The pool was great!  After swimming, I took Kim and the girls for a spaghetti dinner at the Station Restaurant here on the island.  It's a little bit nicer place with a menu that's half Chinese and half Western (or sort of Western).  It was a nice way to cap off our anniversary.
       We returned to the room in time for Kim and the girls to put together a Hello Kitty jigsaw puzzle and get ready for bed.
August 5, 2007 – Lazy Day on Shamian Island
      We had an uneventful first full day on Shamian Island at the White Swan Hotel.  We did the usual breakfast buffet and wandered out to the shops for a few minutes.  Then, it was back to the room!  Mandy and Mia sang along and danced with the English training videos while Mom and Dad watched a DVD.  We did get a chance to call home and catch up for a few minutes.  It was good to hear familiar voices.  We miss our boys terribly.  We made it to Lucy's (a common restaurant that serves western food for adoptive families here) for lunch.  Grilled cheese sandwiches and fries were the day's big hit.  Mandy ate cucumbers and tomatoes and some corn.  <![if !vml]>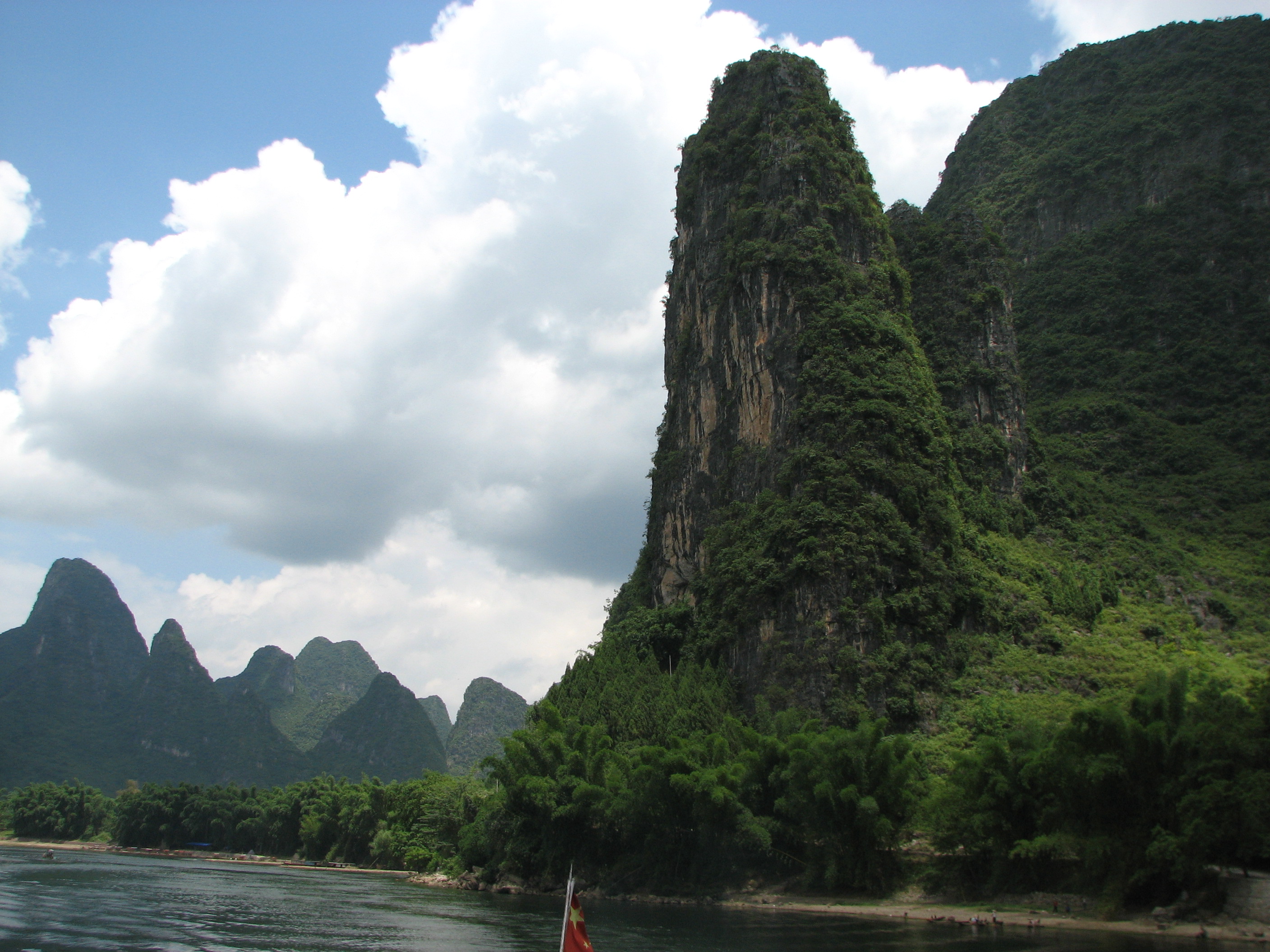 <![endif]>We stopped by Michael's Place, a shop on the island we frequently visited on our last trip.  We learned Michael has opened a bigger shop up the street.  So, we gave him a little bit of business by buying matching butterfly necklaces that Mandy picked out before returning to the hotel.  Mommy and Mia napped while Mandy and Daddy went for a swim.  Mandy is gaining confidence as a swimmer, and I'm sure she'll be swimming like a fish in no time.  For now, she's content to use her swim ring and show me how she can hold her breath and stick her face under water.  Mom and Dad needed pizza tonight.  So, I made a quick trip to the store for some instant noodles.  After Mandy's last incident with pizza, we knew not to push it.  J
       Things are still going pretty well.  We haven't had any major meltdowns, yet.  Still no huge breakthroughs in the Mandy/Mommy relationship, but it will come with time.  In the meantime, Kim is enjoying watching Daddy with his princesses, and Daddy is getting a kick out of watching them compete for my attention.  J
       Of course, now that I've typed that, Mommy and Mandy are in the other room working on something together.  So, that's progress…  I just heard Mandy say, "Mia, No!  Mama Jie Jie do it!"  That means, "Mama and big sister are doing it."  So, maybe a little competition for Mommy time will be a good thing.  J
August 4, 2007 – Still Daddy's Girl
      Not much exciting news to share today, but there were a few firsts.  Mandy took her first plane ride and loved it.  Mandy reached up and asked Ba Ba to hold her for no reason for the first time.  (Up until this point, she'd asked to be lifted to reach something or to be able to see over something, but never to just be held.)  And I, for the first time, ate some sort of Chinese food that looked like a discolored slice of hard-boiled egg and tasted a lot like bologna.  J  I have no idea what it was but was proud of myself for trying it.
       We moved from Nanning to Guangzhou this afternoon.  It was a short and uneventful plane ride.  We were sad to leave Nanning and the friendly people, but it is good to be back on somewhat familiar turf and that much closer to our journey home to our boys.
       Mandy continued to be a bit of a daddy's girl today.  She was a little upset with me on the plane when I won the test of wills over the seat belt, but other than that, we've had a good day together.  She's opening up a little more to Kim, but progress is slow there.  Perhaps in the long run, that will make for a healthier relationship between them.  In the meantime, I'm proud to have a beautiful young daughter who thinks I'm pretty cool.  And it's kind of fun to watch the two girls fight for Daddy's attention!  ;)
August 3, 2007 – Back in Nanning
       Today has been basically an R&R day.  We slept in a little later than normal.  Kim would have slept later, but Mia woke her up to say she was hungry.  I would have slept later, but Mandy woke me up to tell me it was morning.  She loves to pull the curtains back all the way and say, "Good Morning, Ba Ba!"
       We needed the extra sleep after the train ride back to Nanning.  It was a little over-stimulating to say the least.  J  It was extremely hot, as the air conditioning wasn't working well in our carriage, and the monitors, which run a loop of MTV-like Chinese entertainment segments, were turned up unreasonably loud.  We went through our bottled water in no time, and I can't remember the last time I've sweated so much.  I love the Chinese people, and I am fascinated by the language, but listening to the monitors and everyone trying to talk over the monitors in a 95 degree 90 percent humidity putrid smelling metal box for five hours…  Let's just say I told Kim I have a new idea of what Hell must be like.  J
Back to today…  We ventured to the restaurant for the usual breakfast buffet.  We were joined by another adoptive family from New York.  After breakfast, we took a short walk around a nearby park.  By 9:30AM or so, it was already getting too hot to be comfortable or safe outside.  So, back to the hotel room we went.  Mandy <![if !vml]>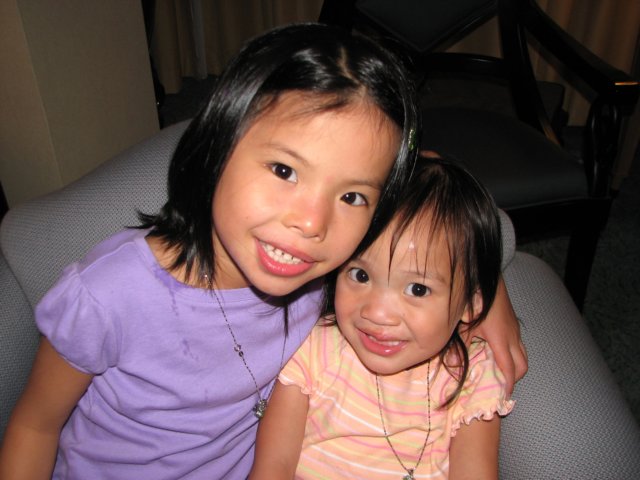 <![endif]>and Ba Ba made a quick Wal-Mart run then returned for swimming with Ma Ma and Mia.  It was strange.  Even while swimming, the sun was beating down on us so intensely it was exhausting.  I guess this Native Texan is turning into a wimp.  J  We had fun, though.  We swam for a little over an hour and then returned to the room for some rest.  The DVD player we brought and the English training videos and Chinese version of Mulan we picked up at Wal-Mart have kept Mandy occupied while Mia has napped.  Ma Ma and Ba Ba have just been lazy and enjoyed watching our girls.
       I apologize for the brevity of my journal entry yesterday.  After the busy emotional venture to Mandy's community and her finding place, she decided to test the boundaries.  As I started typing my journal, we had a little incident that brought on her first Ba Ba scolding followed by her first tears since she's been with us.  So, we had to deal with that.  After a couple of hours, I wasn't the ugly ogre anymore – especially after I ordered her favorite noodles via room service!
       Oddly enough, yesterday's incident had unexpected effects.  First, Mandy has really started working on learning English.  Second, she's been a total Daddy's girl, today.  We'll see how long that lasts, as I have perfected the skill of getting myself in trouble.  J
       Over the past few days, we've learned a few more things about Mandy.  She wants to be a model.  :O  (This explains why she constantly wants to pose so we can take pictures.)  She doesn't like spicy foods, darkness, or the smell of coffee.  She loves to help people do things and to show her abilities (sometimes too much).
      I'm afraid it's going to be another relatively brief journal entry today, as there just isn't a lot going on today.
       Until tomorrow…
August 2, 2007
      Today we had the opportunity to see the part of Guilin where Mandy has lived her life.  We were able to see her finding place where the policeman found her after she was abandoned.  It was a bit of an emotional time that brought back the unanswered questions in Mandy's mind.  We just pray for the wisdom to teach her that her value comes from her heavenly father and creator and not from her past.  We are resting at the hotel now and will soon be taking the train back to Nanning.  Mandy is excited about that because she says the Nanning swimming pool is much better than the Guilin swimming pool!  J
       Note to the boys back home:  We miss you a bunch!  We hope you're having fun.  We can't wait to bring Mandy home to meet you.  We LOVE you!!!
August 1, 2007 – Time in Mandy's Home Town
       Guilin is known as a resort city.  It is a vacation spot for Chinese and foreigners alike.  One of the most popular attractions is a river boat tour of the Li River.  We were fortunate enough to take that cruise today and take in some of God's handiwork.  The limestone mountains are incredible to see.  Unfortunately, the hazy sky wreaked havoc with some of our photos, but hopefully you can get a taste of how awesome it was.  It was also very interesting to see the mixture of modern technology with ancient practices.  The epitome of this was one fisherman and family we <![if !vml]>
<![endif]>saw.  They were on a bamboo raft powered by a Honda outboard motor.  The father was on the back of the raft fishing with tethered birds.  Birds tied to the boat will dive into the water and retrieve fish, and the fisherman pulls the bird to the raft and removes the fish from its mouth.  There was a small lean-to in the center of the raft.  In it were the mother and baby, and the mother was talking on a cellular phone.
       After the tour, we had about an hour ride back to the hotel.  We were pretty tired.  So, we decided to just hang out <![if !vml]>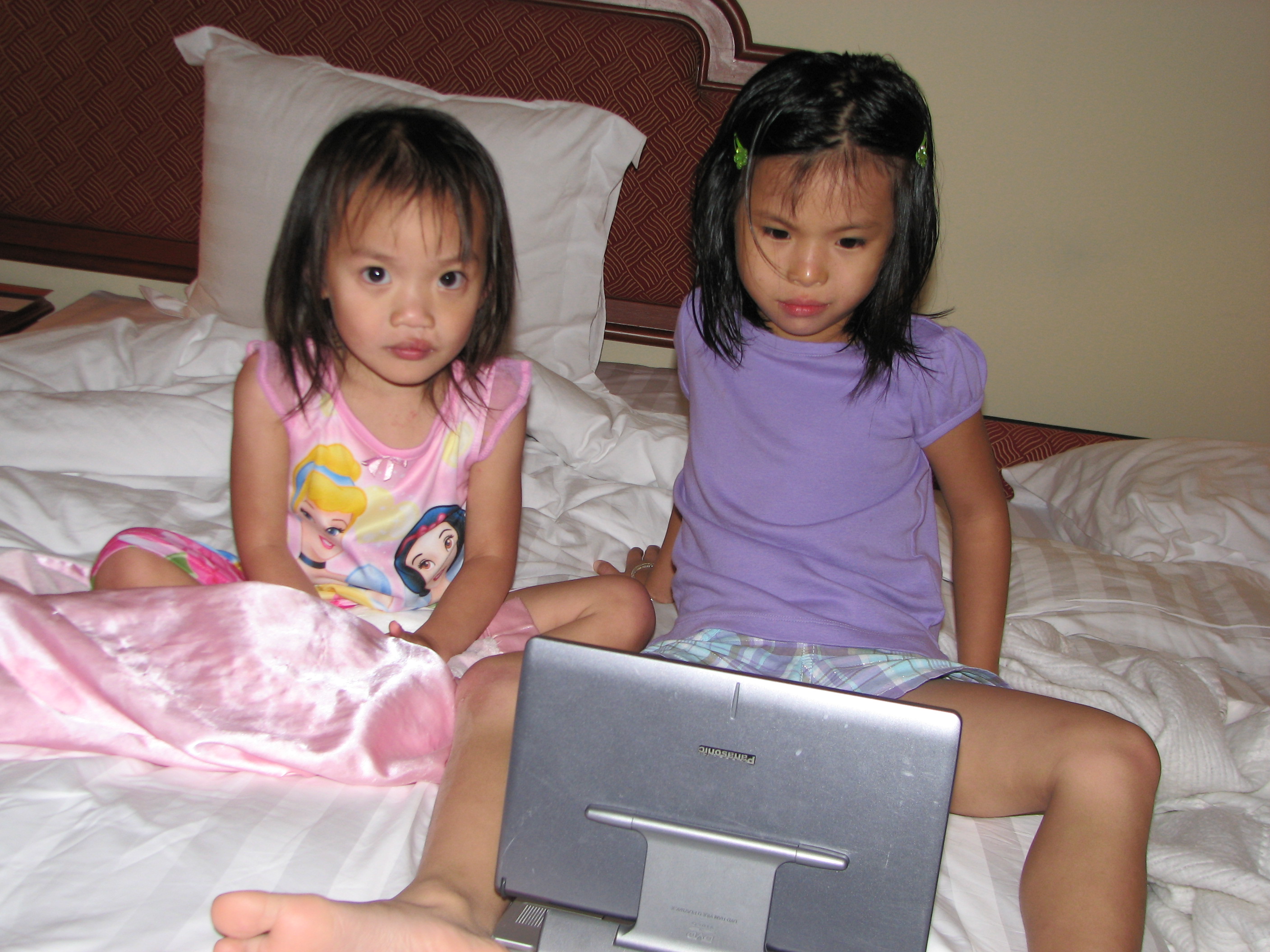 <![endif]>and rest a bit.  The girls played while Kim laid down for a while, and I worked on sorting through the hundreds of pictures we took and updating the photo album.
Early in the evening, Mandy asked to go swimming.  So, I took her down to the pool for a bit, and Kim brought Mia down later.  Mandy loves the water, but hasn't quite mastered swimming, yet.  Maybe by the end of our trip she'll have it figured out with Ba Ba's help.
       Overall, it was a very good day.  We have looked forward to the river cruise for a long time.  Mandy was a little more distant as she wrestles with letting her foster family go and transitioning to our family.  She was pretty blue most of the day, but brightened up as evening wore on.  She danced and sang with a Letter Factory DVD for quite a while.  Hopefully that will help with English.  Later on, she and Mia sat down to watch Cinderella.  I think we all may be destined for an early bedtime tonight!  J 
<![if !vml]>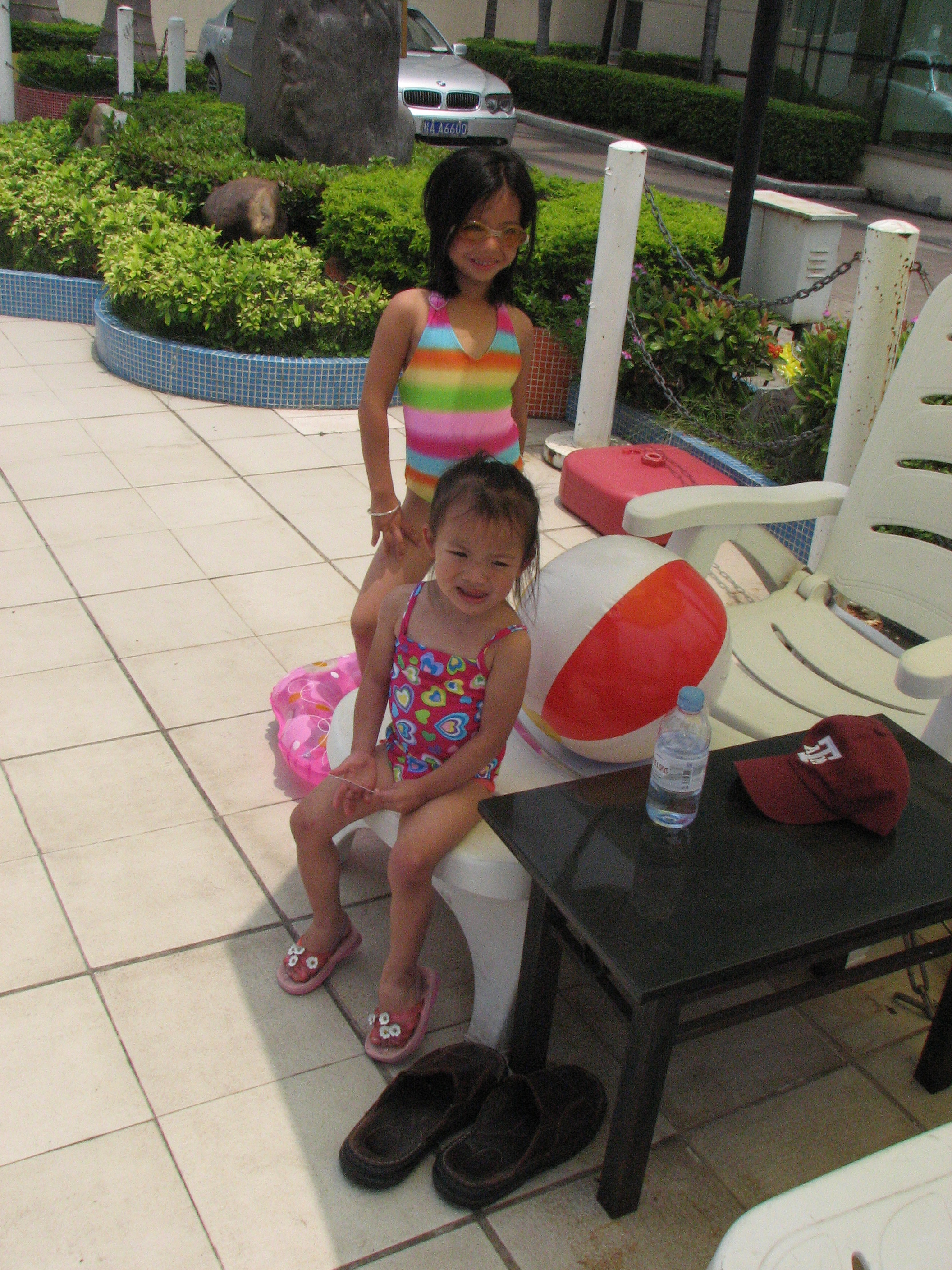 <![endif]>
July 31, 2007 – The Adoption is Finalized
       Today started with us waking up far earlier than we'd liked, but just in time to grab breakfast before heading back to the Civil Affairs office to confirm, once again, that we wanted to adopt Wei Dan Na, that we'd take care of her and provide for her needs, etc.  Breakfast was good in the fact that both girls found some things they liked to eat, even if not as much as we thought they should have eaten.  Mandy was in a particularly playful mood, hence the funny face pictures I just posted.
After breakfast, we were off to the Civil Affairs office to finalize. <![if !vml]>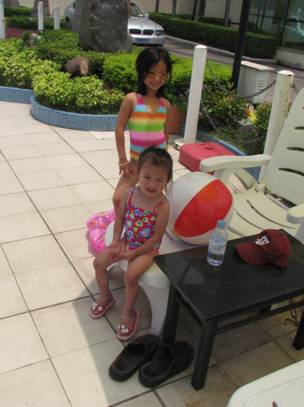 <![endif]> Then, after our fees were paid and our signatures thumb printed, the government official thanked us and congratulated us on adding Mandy to our family.  Mandy was quite curious through the whole affair, and on the bus ride back to the hotel, she asked Cindy, our guide, what it was all about.  Cindy told her that she was now officially our daughter.  She said, "Yeah!  Very good!" (in English, no less) J  Talk about three words to melt your heart.
       We hurried back to the hotel for some lunch.  We went to the "food street" off of the basement level at the hotel and found food appealing to just about everyone.  I had the Spicy Chicken and steamed rice.  I got some strange looks when I ordered it, but it was great!  And VERY spicy!
       After lunch, Kim and Mia went back to the room and packed while Mandy and I made a Wal-Mart run.  Mandy was a little concerned that Ma Ma wasn't going with us, but she did fine, anyway, and we got back just in time to check out of the hotel and load the van to head to the train station.
       We arrived a bit late due to traffic and had to really hustle to make the train, but we got there in plenty of time.  Once on the train, I pulled out the portable DVD player and a Chinese version of Mulan that Kim and I had picked up at the Nanning Wal-Mart before meeting Mandy on Monday.  It was a big hit with Mandy and the 8 year old boy sitting next to her on the train.  We ended up being quite the spectacle for most of the five hour train ride to Guilin.  The family sitting with us started by asking our guide why we had two Chinese girls.  Then the questions started to flow – why, where, when, how, etc.  The people were very respectful and courteous, and we were happy to explain it.  After Mulan ended, I pulled out my laptop and began to show Mandy some photo albums of her brothers, along with a few snapshots I had saved of her cousins.  We went through all of the names over and over.  Suddenly, I realized that with each new picture I pulled up, there was a louder and louder reaction from behind me.  I looked back to realize a crowd of probably no less than twenty people had gathered behind our seats to look at the pictures.  They were all so curious about our family and almost all of them said our boys are handsome and our girls are beautiful.  We were thanked many times for our kindness and generosity in adopting orphans from China, and our response, as always, was, "It is our honor to do so.  We are the ones who are blessed."
       The train ride went well, but it was long.  By the time we got to Guilin, we were worn out.  We just wanted to get to the hotel and crash.  We met our driver and loaded yet another van.  Mandy and the van driver struck up a conversation and he began to laugh.  Cindy said, "The driver told Mandy she was very lucky to be adopted by you and get to live in America.  She told the driver, 'You're lucky, too because you get to drive this van and make BIG money!'"  She has been quite the comedienne.
       We got checked into the hotel and opted for room service.  Kim isn't feeling well and went to bed early.  She apologizes, but she will have to wait until tomorrow to journal for two days.  Mia was right behind her in the sleep department.  Mandy and I stayed up and played on the computer for a while.  Then, she drew some pictures for me and finally went to bed when I had to put my foot down and say, "No more".
       Mandy still seems to be doing very well.  For all of you who have recently adopted infants and young toddlers, all I can say is, "Nanny Nanny Boo Boo.  My daughter slept all the way through the night from Day One!"  J  We are blessed that she is as excited about this adoption as we are!  More and more English words showed up as today progressed, and she seems to understand quite a few more than she can say.  She's also slowly but surely becoming more comfortable with us in spite of the language challenges.
       I'll have to close with that, for now.  Pray for good weather tomorrow.  We're touring the Li River and hope to get some really good photos of the phenomenal scenery.
July 30, 2007 - Mandy's Forever Family Day
After a long night of sleep to help end the jet lag, I woke up refreshed and ready for an exciting day!  Kim and I knew we had to keep busy today, or we'd go crazy thinking about what was to happen at about 4PM.  So, we planned breakfast, a visit to the hotel business center to make copies of documents, and a visit to Wal-Mart for some diapers and water and other small items.
Our plans were hampered a bit when Kim was hit head on by a Welcome to China Migraine!  She was feeling pretty sick.  So, I got Mia bathed and dressed and ready for breakfast while Momma tried to recover.  She was able to get up and about, and with a little food, a little time, a couple of Excedrin, and a lot of prayers from our friends, she was on the road to recovery!  So, we were able to make our copies, explore the hotel a little more, and finally trek to Wal-Mart via a Nanning taxi cab.
We were amazed by this city.  The cab driver zipped in and out of traffic for what I guess was a few miles.  It took 10 minutes and 11 yuan (Chinese money equivalent to $1.50 or so).  He dropped us off at a shopping center that was very quiet but for the few shopkeepers preparing to open for business.  We saw Pizza Hut, McDonald's, and KFC among other well-known sites.  We entered a lobby to a building with the Wal-Mart sign outside and realized Wal-Mart was on the upper floors.  Without a bazillion acres of land to spread across, Wal-Mart must follow suit with the rest of Chinese culture and build vertically.  We were quite the conspicuous family amongst the early morning shoppers!  Many people stopped us and spoke Chinese to Mia.  At times, she reacted as if she understood, but not the majority of the time by any means.  In the grocery section, as we marveled at the food choices, we met a boy who appeared to be about 12 years old.  "Hello!" he said.  "What is your name?"  We carried on a brief conversation - the kind that likely used up every English phrase he'd learned in school.  Then a proud young boy named Kim, who speaks excellent English, returned to his mother's side to continue shopping.  Kim and others we met were so much fun!  They were extremely friendly, and though we fought a language barrier, the exchange of smiles and the courtesy extended to our daughter moved Nanning to the top of our list of favorite places.
Once back at the hotel, Mia began to show signs of the remaining effects of jet lag.  So, naptime was declared!  Mom and Dad took the time to discuss the logistics of our afternoon meeting with our new daughter - who would take pictures, who would ask questions of the orphanage representative, etc.  It turned into a lot of "what ifs".  With Mandy being 7, we had no idea what to expect.  Would she run to us and jump into our open arms?  Not likely.  Would she run away from us screaming?  Also, not likely.  But exactly where in between those two extremes our encounter would fall was anyone's guess.  As we rode to the Civil Affairs office where we'd meet her, our guide told us the process.  We were joined by another family using the same adoption agency.  The plan was to have both families enter the building and go upstairs to talk to the Civil Affairs representative.  She would tell us about our "harmonious period" where Mandy would be in our custody, but not be officially our daughter.  We must promise not to harm, abuse, or abandon her.  We listened intently to the instructions as the van pulled in front of the building.  I opened the door and jumped out, then turned around to help Mia and Kim out.  I heard the automatic door to the building slide open.  I turned to look, and there was Wei Dan Na, our Mandy, smiling as big as could be and waving to her new Ba Ba (Chinese for Dad).  We walked in as the orphanage representative and others in the lobby scrambled to bring order back to an awkward situation.  Too late.  Mia and Mandy stood face to face, each staring at the other with an indescribable look of joy, curiosity, excitement...  We exchanged waves and hellos, then moved on to the elevator.  Mandy followed us in spite of the people calling her back.  So, we stopped and let all of them go up.  Then we followed in another elevator.  We were back "in process", and a few minutes later, we got to meet her.  No fanfare and no tears.  Just a bunch of mile-wide smiles as we began to get to know each other.  She had as many – probably more – questions than we did.  She wanted to confirm that she had three brothers, two older and one younger, and wanted to know their names and when she would get to meet them.  She is afraid of dogs.  So, she wanted to know about our dogs and if they are safe and friendly.  She asked about our schedule with travel and the adoption process.  (Later in the day, about the third time our guide tried to explain all of the travel, Mandy through herself down on the ground, laid on her back, sighed, smiled, giggled, and said in Chinese, "I'll just do what Ma Ma and Ba Ba say.")  In between questions she presented us with gifts from her foster family.  She also retrieved items from her backpack to show to us.
With our questions answered and hers at least partially answered, we were off for photos.  As we left the building, Mandy and Mia were hand-in-hand.  Mandy was already fitting into her big sister role, and Mia didn't seem to mind.  We got the photos taken, and as we walked out, I extended my hand to her.  We held hands for several steps, and she smiled at me.  Then, she took off to catch up with Mia.  A few moments later, she returned to my side and voluntarily reached for my hand.  That made my day!
As we rode back to the hotel, she was eager to share the English she knows.  She counted to eleven, identified "Grandma" and "Grandpa" and "Ge Ges" (brothers) in her photo book.  She has a great sense of humor, and she and I acted silly for most of the ride.
Once back at the hotel, we played with bubbles, had a little play tea party, and made some sort of confectionary delight out of multiple colors of Play Dough.  Mandy still seemed a little nervous, which is to be expected, but she was definitely enjoying herself.
After playtime, Kim showed Mandy her new clothes from the suitcase.  She loved all of them and was quick to thank us politely.  Then Kim showed her the new swimsuit, which she begged to put on right then.  Kim obliged, and the next thing I new, Mandy was modeling it – dancing around the hotel room.  I had to laugh.  Then, I showed her the swimming pool, which you can see from our window.  She started jumping up and down and pulling me toward the door.  Then came the daunting task of trying to figure out how to tell an excited Chinese girl she has to WAIT.  Finally, I resorted to drawing a picture of a person swimming and a clock showing the time we actually would be able to go, and that made the point.  (She watched the clock like a hawk after that.)  J
Our guide brought in the necessary paperwork, which we completed.  We received our instructions for tomorrow's busy day, and we were off to the pool.  We didn't swim for long, but Mia and Mandy had fun splashing water in Dad's face.  J
Before we'd gone to the pool and while our guide was still in the room, Mandy has whispered to the guide that she loved the new shoes we'd bought for her, but they would work better if they were a little bit bigger.  J  I had noticed they were too small when we put them on her, but she insisted on wearing them anyway.  So, we'd promised her we'd replace them with some that fit.  It was then we realized that with our appointment and travel schedule, we need to get some shoes ASAP.  So, off to the shopping center we went!  Shopping was frustrating for her.  She could communicate with the store helpers, but Mom and Dad just weren't getting it.  We found lots of shoes that would fit, but we couldn't determine which she liked the best.  Finally, she was able to get it through our thick heads that the pink tennis shoes and the purple sandals were her favorites.
By then, it was getting late, and everyone was tired and hungry.  So, the Pizza Hut next door sounded good to us.  We ordered a pepperoni pizza, a pitcher of soda, and Mandy wanted some sort of fruit and yogurt smoothie thing.  While we waited, she asked me to take a picture of her with my Treo phone.  (She had discovered my Treo earlier when I attempted to show her a picture of her brothers.  She snatched it out of my hand and started looking at all of the pictures – pausing to laugh at the ones of her.)  We tried to carry on a conversation, but that wasn't working well, and we ended up laughing at ourselves most of the time.  Finally, the food arrived, and she tore into her first piece of pepperoni.  If she gets her way, it will be her last.  J  We saw her come the closest to tears we had seen yet or since.  It took us a while to convince her it was ok to return it to the plate from which it came.  But she finally gave in and resumed her meal of fruit and yogurt smoothie and Pepsi.  (In retrospect, that's probably far healthier than the pizza, anyway.)
Kim and I had wanted to do some more shopping for things her orphanage needed, as well as some music and other things she could pick out that would not be available in the states, but all were just to tired.  Mia fell asleep during the pizza dinner, and Mandy just looked wiped out.  So, we headed back to the hotel.
We sent Mandy off to shower (with Kim's help, which she welcomed, surprisingly), and Mia soon followed.
<![if !vml]>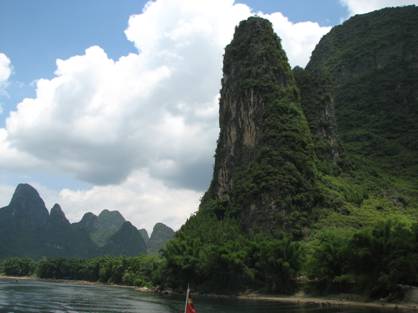 <![endif]>Once out of the shower and dressed for bed, they surprised us by climbing into our bed with a picture book.  Our two princesses looked at the book together for several minutes with Mandy apparently making up a story in Chinese to hold Mia's attention.
Finally, we put Mia in bed, much to her dismay, and told Mandy it was time to lie down.  It took her some reassurance from Ma Ma and a couple of kisses on the forehead and hugs from Ma Ma and Ba Ba for her to go to sleep.  The hugs and kisses weren't returned, but they prompted yet another beautiful smile, and she's sleeping soundly now.
I feel doubly blessed, today.  I had no idea how God would piece together our union with Mandy, but today was beautiful.  It will take a lot more days like today for her to learn that our love for her is unconditional and that we are not yet another set of temporary parents for her, but what a huge step this first day has been.  Right now, I am crying my first tears of the day, surprisingly enough, and they are tears of joy.  For I know that the immense, unconditional love I feel for all of my wonderful kids is but a mere glimpse of the pure unconditional love my heavenly father has for me!  Please don't forget to hug your Father back tonight.
July 29th:
       We got up this morning and had a great breakfast and were feeling surprisingly well after a good night's sleep.  Mia has been extremely happy and well-behaved so far – very few three-year-old meltdowns.  So, we are thankful for that.  We got to the airport for our flight to Nanning and were surprised by the HUGE lines at the security checkpoint.  They moved very quickly, though, and we were through the checkpoint and waiting at the gate in no time.  The flight went smoothly to Nanning.  Our guide met us at baggage claim right on time, and we were off to the hotel – about a 40 minute ride from the airport.  Nanning is beautiful.  It is the capital of the Guangxi Zhuang Autonomous Region in the southwest part of China (often referred to as the Guangxi Province).  It is just west of the Guangdong Province and borders Vietnam, as well.  Its economy is supported by agriculture in its beautiful countryside and food processing, pharmaceuticals, and manufacturing in the city.  Nanning never sees snow or freezing temps.  We can tell you from first-hand experience, it is also very hot in late July.  J
       We've had a blast watching Mia take it all in.  She is fascinated by the kids here and draws a lot of curious looks as she walks around with her strange-looking parents.  J  She's not too big on the heat outdoors, though.  After only a few minutes in the park, she said, "Daddy, I ready go home."  I said we couldn't go home until after we got Mandy, took the plane to Guangzhou, etc., etc.  "No, no, no, Daddy!  That home," as she pointed to the hotel.  Leave it to me to over-complicate things.  J  Once back in our room, she was doing fine.  A tickle-fight with Mommy, a Hello Kitty puzzle with Mommy and Daddy, and some magnetic "paper dolls" served to kill some time until she (and I) were unable to fight the jet lag any longer at 5:30PM.
       Now it's almost midnight, and I'm updating this journal and doing some reading – hoping I can get back to sleep in a bit to be rested for the big day tomorrow.  I am so excited that we meet Mandy in just about 16 hours, but I'm nervous about those first few hours together.  There's no way to know what to expect.  I'm sure she'll be excited, happy, scared, and sad all at the same time, and that will be tough on a little girl.  We are just praying that God will give us just the right things to do and say to welcome her into our family and let her know we love her and are here for her.
July 27th and 28th:
       Not much to report, here.  Two days of travel, but praise the Lord they were quite uneventful.  Due to Northwest canceling a flight (They did give our travel agent an 18 hour notice.), we flew American to Tokyo and All Nippon to Guangzhou.  That probably actually worked out better for us as it decreased our total travel time, and the planes were GREAT!  We had more leg room than on our past international flights, and we had the personal entertainment screen in the backs of the seats in front of us.  Not first or business class, but still nicer than expected.  The planes were not full, either.  So, we had lots of room to stretch out, and the service was great.  Mia was a trooper!  So, we've made it safely to Guangzhou with our nerves and luggage intact.  We're in the hotel which is also nicer than expected.  My two girls are sleeping, and I'll soon be joining them!  Keep the prayers coming!  More tomorrow from Nanning!!!