Dad's Blog
April 5, 2009
Oops! I've let another whole quarter go by without updating this blog. Quite a lot has happened…
Levi had surgery in January. The same doctor who has been helping Mia took Levi in for ear tubes, but quickly discovered his adenoids were HUGE, as were his tonsils. So, out they came! He seems to be doing much much better with his hearing and with what used to be constant sinus drainage.
February brought Mandy's fourth and final ear surgery. The transformation isn't perfect, but it is amazing nonetheless. Her skin graft is almost healed at this point, and it's looking pretty good.
Praise the Lord we closed on our old house in mid-March! It's great to have that chapter closed. We've also said goodbye to my old Mazda. It served us well for ten years, but with 170,000 miles, it was time to retire it. I was researching and looking for a replacement when Nolan began working the Ford Mustang angle. (He's been a Mustang fan for a while.) I agreed to take him on a test ride – just for fun – at the local Ford dealership, but I warned him, "I don't think I'm going to like it." I was wrong. It was a lot of fun to drive, but that particular one wasn't right for us. We spent the next few weeks looking for another. We found a blue one, but Carfax said it had been wrecked. We found a couple of others that were priced too high. Finally, I found one in a nearby town that was priced well and had the features I wanted. So, much to Nolan's glee, I am the owner of a (used) 2009 Ford Mustang.
Baseball is getting into full swing. All four boys are playing this year, and that has Kim and me running in different directions on most weeknights. I'm coaching Nolan and Garrett on the same team and Nate on another. If I could have managed to coach three teams, I would have signed up to coach Levi, too, but that's just not possible.
The girls are still loving their dance classes and are gearing up for the big recital at the end of May.
We are looking forward to warmer weather, a camping trip, and our summer activities!
January 4, 2009 – We don't call names in our house!!!
Today while eating lunch at a restaurant, I told Levi, "I love you a BUNCH!" He replied, "I love you, too. Why you call me a butt?" Ah… Those ear tubes won't come fast enough…
December 31, 2008
Another month, and for that matter another year, has flown by! Where did 2008 go?! I'm not sure what happened to the time while we were busy with baseball, moving, homeschooling, working, buying a house, trying to sell a house, adding a new member to our family (not to mention a dog, a cat, a rabbit, and a guinea pig), etc. But here we are – another New Year's Eve! Somehow the idea of a new year brings thoughts of a new beginning – a fresh start – and I am eagerly awaiting what God has in store for us in 2009, whatever that may be!
2008 has been a good year! Nolan just turned 12 (unbelievable), and this year has been one of incredible growth for him in a lot of ways, but physical growth is the most obvious. He's 5' 4 ½" and currently is only 1 ½ shoe sizes behind his dad. He has developed an interest in mechanical things – how they work, how he can fix them, and how he can make them better. He enjoys helping Dad with any necessary auto repair or DIY projects around the house. He continues his interest in veterinary medicine and still wants to pursue that as a career path, but has decided Oklahoma State may be a better choice than Texas A&M since it's closer to home and Texas A&M Vet School is so hard to get into. Mom and Dad swallowed hard, sucked it up, and accepted it. J Then we realized having him closer to home may work out better for us, too. I think Nolan's commitment to helping sick animals grew even stronger when he lost his beloved young yellow lab, Harley, this spring. Harley had a severe case of hip displatia and had to be put down when the discomfort became too great for him. His place in our home was filled this summer by Elvis, another AWESOME yellow lab, but Harley will always have a place in our hearts. He was an incredible pup. Nolan is developing into an awesome young man. He continues to impress me with his ability to explore and research anything and everything that interests him, which includes pretty much anything that can be driven, ridden, or blown up. J His guitar playing is improving, too!
Garrett continues to develop his culinary acumen as he helps Mom with creations in the kitchen any chance he gets. He's still a die-hard Dallas Cowboys fan, and he takes it pretty well when Dad and Nolan raz him about Romo's pinky finger. He has amazed us with his progress as a drummer! While practice time has induced many a parental headache, it has been worth it to see his talent unleashed. (Thanks to Jaymi, who took her lunch hour once per week to come to our house and work with him!) Garrett is still also the compassionate one in the family, and while he will put up a fight with his siblings, he can't stand to see anyone else – family or not – hurting, suffering, or in need. Even at the age of 9, he'll give the shirt off of his back to help someone else.
Mandy has blossomed this year. We think she was simply in survival mode early in the year as she tried to grasp a new language and new culture, but she's moved past that and is learning the meaning of "family" and beginning to realize that she is loved unconditionally. Her reading is coming along very well, and she's beginning to like school. Her interest and talent is in dance, and she's really come along this year! She's working hard at it, and it shows more and more as her confidence and abilities develop.
Nate is still laid-back Nate! He may be the biggest of the Smith boys when it's all said and done if he keeps growing like this! He's still a dog lover (a lover of all animals, really, but especially dogs), and it wouldn't surprise me if he and Nolan ended up in a veterinary practice together one day! He continues to be the affectionate son (though Levi is beginning to give him a run for his money) and can be counted on to brighten our day with hugs. He recently decided he wanted to round out the Smith boy band as the bass player, and Santa hooked him up with an electric bass guitar and Peavey amp.
Levi has only been with us for 4 ½ months, but it feels like he's been here much longer. He has fit in so well as a member of our family! He is… what's the word… studious? attentive? …not sure how to describe it, but he takes in the detail of everything he sees. Kim thinks he may be the engineer of the group. He loves to figure out how things work. He loves music and dance and sings much of the time he is playing or working on something. He'll have surgery on his ears, soon, and I'll be very excited to see his reaction when we can hear music more clearly – not to mention the positive impact we think it will have on his speech and his understanding of what we are telling him.
Mia is still… MIA! She is just excited about life. She brightens a room when she walks in, and though we are trying to tame the four-year-old "sass" in her, she knows no stranger or enemy. In her eyes, anyone who is not her friend just hasn't come to know her yet! She, too, is enjoying dance, but more for the social aspect than for the love of dance that her big sister has. She's in the frilly princess stage, as annoying and as fun as it can be. I think this year she finally decided that both Mom and Dad were OK, and she has finally come to understand/accept us as family.
I'm proud to be Daddy to all of them (but you couldn't tell that, huh?).
Kim's been doing nothing this year. She usually just sits on the couch and watches TV. Sleeps in 'til 10AM or so… What a life! Actually, I just wrote that because she's standing over my shoulder waiting for me to come play a game with the kids. So, time to go!
I will say this… NEWS FLASH!!! Yesterday, we accepted an offer on our old house! It wasn't quite what we wanted, but in this market, I'm not sure anyone is getting what they want for their houses… It was at least a palatable offer. So, we're hoping everything works out and we can put this behind us. Thanks to those of you who have prayed for this situation, and please continue to pray that everything goes smoothly.
HAPPY NEW YEAR!!!
December 1, 2008
I hope you had a great Thanksgiving! We took a trip to be with Kim's family and had a great visit. Levi got to meet his aunts, uncles, cousins, PaPa, and the rest of the gang, (There were 38 of us at Thanksgiving dinner.) and he had a blast. It was also Mandy's first time to meet some of the family, and she's really beginning to get a sense of what family is all about. It's great to watch them grow!
We had a warm weekend before Thanksgiving. So, the big boys and I took advantage of the weather and put up our outdoor Christmas lights and then set up the tree inside. Mia was SO excited! When I was almost done, she took a look at it all and said (in her most expressive tone), "Daddy, thank you for setting up my Christmas stuff. You are the Christmas Hero!" Everyone got a kick out of that, and I've taken plenty of razzing from Kim and the boys, but she just melted my heart. ;)
October 13, 2008 – Autumn
I love the beauty of autumn.<![if !vml]>
<![endif]> But there are some things about autumn that haunt me… <![if !vml]>
<![endif]>
<![if !vml]>
<![endif]>October 9, 2008 - Official Custody
We had Levi's custody hearing today. We are now his official legal guardians and his name has been changed to ours! He's come up to me several times today and stated his full name. How cool is that?! Things continue to go very well with him. His bonding and attachment to our family continues to gradually progress, and he is a huge blessing to our family. His siblings love him, and it is wonderful to see his smile, which is almost constantly present. He loves to go outside and play sports – especially baseball. He loves music and will bang on Daddy's keyboard or sing just about any time he gets the chance. He admires his older brother and loves to tag along with him, and he tries to imitate his Dad. (Uh-Oh!) He loves to go to church and tells us his bible stories on the way home. He has a sharp sense of humor. He rarely stays in one place for more than a few minutes. J
<![if !vml]>
<![endif]>Levi and Mia are doing "pre-school" at home while the big kids do their home school work. To the left is a shot of them building flower designs with plastic blocks. They work well together!
<![if !vml]>
<![endif]>Elvis, Nolan's puppy, is five months old now. He is 52 pounds and is a typical lab puppy. He's beautiful and very energetic. Nolan has been working hard to train him to sit, heel, lay down, "drop" objects, "leave" objects alone, etc. They're making progress, and Nolan has really taken his responsibility seriously with the pooch. The whole family is pretty taken with our "Old yeller" look-alike. One night after bath time, he got a rare opportunity to lay on the couch with Nolan.
Mandy is doing well, too, and her next ear reconstruction surgery will be on October 30th. She's anxious to be done with it, and this will be the next-to-last operation. So, we're in the home-stretch! She continues to adjust to our family and is finding her place – learning to love and be loved, learning to trust and be trusted. It's been a challenge as she comes to understand these foreign concepts, but each day brings progress. She loves to go to church, too, and her favorite part of the school day is bible study. She is so open to the word of God and is soaking it up!
August 26, 2008
<![if !vml]>

<![endif]> Welcome Levi!!! Levi is our newest addition! Like our girls, Levi was born in China. His path to our family was a little bit different than the girls' paths, but God's hand was just as evident in Levi's story. He is an active four-year-old and has fit right in with our crazy crew! He is enjoying his new family, and his siblings are certainly enjoying their new brother. There will be more to come as we work through the court system to make him "legally" part of our family.
<![if !vml]>
<![endif]>Mia's Birthday We celebrated Mia's birthday over the weekend. She is growing into such a beautiful young lady. She is growing out of the three-year-old self-centered stage (meaning less whining – YEAH) and really developing a love and concern for others. She is becoming quite the courteous princess! She had a mermaid party, and she and her friends enjoyed time in the kiddie pools and sprinklers at our place. She got some really cute presents, which she's enjoying. It was a big day for her, and it was a lot of fun for all of us. We praise God every day for this new house! While we'd love to bring the decorating into the 21st century, it has been so nice having a place for the kids to play outside, space to spread out inside, more than one "useable" bathroom, and a barn loft to serve as the boys' clubhouse! The covered patio between the house and the garage came in really handy for the cake and ice cream time this weekend, too! Thanks to all of you who came to make Mia's day extra special!
Back to School All of the kids started school this week. Be sure to check out the photo album page for some cute photos of the crew! Kim got an idea from another home schooling mom and employed me as the bus driver – not too much of a stretch since we drive a one-ton 12 passenger van! We loaded up the kids and drove around a block of county roads back to the house, again. Then unloaded and herded them through the front door of our "Academy". J I also decided to write short "Daddy Love Letters" to each of them and placed them in their backpacks in hopes they'd find them when they began their assignments. That surprise was spoiled a little bit when one of the boys discovered his before we even did our "bus ride", prompting the others to check their backpacks to see if I'd left them a letter, too. Even though they found them prematurely, they enjoyed their notes. Kim has done a great job of organizing the school days for this year – a necessity with 6 students at different levels… She's keeping them on-schedule and on-task, and I think that will keep things less stressful this year.
<![if !vml]>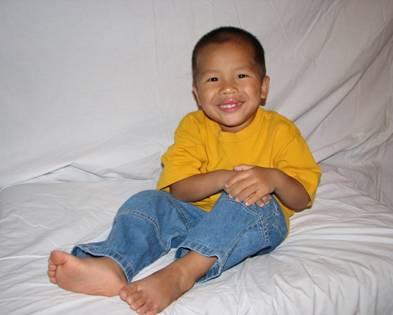 <![endif]>
The Chapmans Have you been keeping up with Stephen Curtis Chapman and his family? Their five-year-old daughter, Maria, was killed last May in a tragic accident at their home, and they've since been on Good Morning America, Larry King Live, and yesterday, today, and <![if !vml]>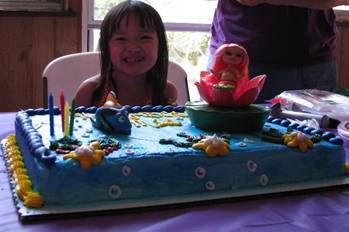 <![endif]>tomorrow on the Focus on the Family radio program. They are a great family of faith. If you haven't heard their story, you can see videos of the interviews at http://www.stevencurtischapman.com. These pictures were drawn by Maria on the morning of the accident, and the story related to them is an amazing testimony. Check out the interviews to hear about it!
August 4, 2008
<![if !vml]>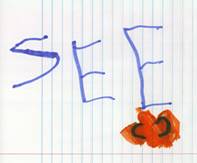 <![endif]> July 30th marked the first anniversary of Mandy's "Gotcha Day" – the day she joined our family. The past year has been filled with ups and downs and she has learned to love us and we have learned to love her. We've experienced frustration as we've tried to communicate; we've experienced pain as a confused little girl lashed out at her mother. We've experienced excitement and sat in awe as she opened up the window of her heart and shared stories about her life in China. Sometimes those stories have brought heartache. We've experienced fear, wondering if things would ever "click" between us, and we've experienced blessings when they finally did. Best of all, we've experienced love – unconditional love. The transformations that have taken place in the last few months have been amazing. We are truly blessed to have this little girl in our family!
July 19, 2008 – I give up…
My blog is suffering from the "stuff" that always seem to take priority. So, I'm giving up on trying to keep the more frequent updates rolling, and I'll just resign myself to the monthly or bi-monthly updates.
The House
We had a contract on our old house. We were supposed to close the week of the 21st, but it didn't pan out. An unmarried couple was planning to buy it, and they split up. So, they backed out on the house. So, we're back to showing it and trying to find a buyer. All of that is not as stressful as it once was because the house is EMPTY!!! That's right! We already bought and moved into our NEW house! We found a big nice house on a couple of acres with room to spread out and play, and the price was right. So, we went for it! We're loving it so far, although moving and trying to set up the house has been quite the chore… The boys are having a blast playing outside in their big yard and in the loft of their new barn. They finally have room for baseball practice at home, too! BUT, they quickly discovered that Nolan's 3-wood isn't a very good idea when he parked several (Dad's not quite sure how many) golf balls in the back yard of the neighbors two doors down. The girls' room is twice the size of their old one, and they are loving having space to play, too. Mom and Dad are most excited about having our own room and a private bathroom! Nobody has to go through our domain in order to shower or brush their teeth (which was the case in our old house, with the master bath being the only bathroom on the first floor).
Baseball
We wrapped up our local Little League season at the end of June. My duties carried into July as we hosted a couple of Little League District tournaments. It was a lot of work, and it was fun, but I am glad to have a break, now. I'll get to focus the next few weeks on working on the boys' pitching, fielding, and hitting, and that will be a nice change of pace.
Mandy's Surgery
<![if !vml]>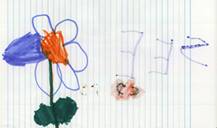 <![endif]> Mandy had her Phase II surgery this past week. It went very well! She is pretty proud of her new ear and came through all of it fine. The picture was taken the day after the procedure. So, I apologize if it's too graphic. There's quite a bit of swelling, still. But, as you can see, they've taken her "small ear" and formed the earlobe and the beginnings of the hard "flap" in front of the earhole. Mandy actually gave a big smile when she saw it for the first time and exclaimed/questioned, "How does my doctor do that so good?!" It has been quite a dramatic change.
Puppy
We had to put our yellow lab down not long after my last post. He was only a year old, and we had grown so attached to him. It was hard on all of us. Harley was quite an awesome dog for our family! He started having trouble playing and running and developed a limp. Over time, we noticed the limping getting worse, and he didn't seem to want to put any weight on his hind legs. X-Rays confirmed that he had hip displatia (sp?), which is apparently not uncommon in large breed pure bred dogs. Basically, the balls of the femurs did not sit properly in the hip sockets – so he couldn't support his own 90 pound body. We managed the pain with medication as long as we could, but the day eventually came when we had to say good-bye. We miss him bunches…
We can't replace Harley, but we did add a new addition – another yellow lab named ELVIS! He is quite the cutie, too! We got him from a breeder in a town about 20 miles from us. We met Elvis at about four weeks old, and waiting those next four weeks to be able to bring him home was tough! The day finally came, though, and he has been here with us and spoiled as can be for the last four weeks. He is now a 24.5 pound 12-week old who thinks he is just another one of the kids. They love him in spite of his razor sharp puppy teeth, and he is pretty well-behaved for a lab puppy. The girls are doing surprisingly well with him. Mandy has always been a little fearful of dogs, and Mia has a knack for becoming a squeaky chew toy. The puppy incidents have been minor though, and he hasn't destroyed the new house, yet.
The "stuff" is calling, again, so I must close until next month (or perhaps the next). Thanks for taking the time to read my blog. J
<![if !vml]>
<![endif]>
May 16, 2008 – I've waited far too long to update my web page!
We have been so busy lately, I simply have not made the time to maintain my web page! That's ok though, since most of you keep up with us through Kim's blog on Blogspot and never read mine anyway! J Here's my feeble attempt to catch up on all (or at least some) of the events.
Mandy's Surgery
<![if !vml]>
<![endif]>Shortly after our celebration of Mia's Forever Family Day, we made the trek to Arkansas Children's Hospital for Phase I of Mandy's four phase ear reconstruction. She has been waiting anxiously for a long time for this procedure, but illness and the dreaded fights with insurance companies have delayed it until now. She was quite a brave patient and was very excited until right before the surgery. The anesthesiologist gave her some medicine to calm her before they took her back, and once it took effect and her inhibitions were taken away, she had a little, well… ok…, a BIG meltdown. We were instantly reminded of the walls this little girl has built up to protect herself from being hurt, and we were saddened that it took medication to allow her to relax enough to show her real emotions. We realized then how scared she was that she was going to be put to sleep and Mommy and Daddy wouldn't be with her until after she woke up. We reassured her and promised we'd both stay at the hospital until she woke up and saw us, and that one of us would always be with her after that. She got her composure back, and off she went for the beginnings of her "new ear". Then, Mommy and Daddy got to have our mini-meltdowns. J Our concern wasn't about the surgery, but about how we could continue to pull back the layers to get through those walls around her heart. We are confident it will come in time. The walls weren't built in a day, and they can't be torn down in a day. With God's grace, we'll get there. The surgery went very well. She was very sore for a couple of days, but bounced back very quickly and only spent two nights in the hospital. (If they'd taken the cartilage and tips of three of MY ribs, I'd still be in the hospital whining!) She's pretty proud of the beginning of her new ear, and as you can see from the photo, it is really beginning to take shape!
Garrett's Birthday
Garrett chose a trip to a nearby town for a pizza party with some friends for his birthday. We had a blast playing in the arcade and visiting with one of the families who <![if !vml]>
<![endif]>traveled with us on our first trip to China. We are privileged to remain close friends with them, and Garrett and their daughter remain especially close. Garrett is becoming such a cool young Christian man! He is so thoughtful of others, and we are so proud of him! He continues to have a love for food and an interest in cooking. He's a chatter-box, too, so he just may replace Bobby Flay on the Food Network someday! J He is inquisitive and loves to learn, provided the learning doesn't come from a book, and he is an awesome big brother to his sisters. It's hard to believe it has been 9 years since he made his pre-mature entrance into our lives, but he is truly a blessing to us, and we are proud to be his parents!
House for Sale
Yep! This house was a LOT bigger when we moved in with three boys! The addition of two girls has strangely made it much cozier! J So, we spent most of March and April completing repairs that we'd procrastinated on, as well as some remodeling. We finally removed the water-damaged sheetrock and hideous wallpaper from our master bathroom and replaced it with Venetian plaster and tile. We threw in some new trim, hardware, and window treatments, and it's almost not recognizable now! Changes to the other rooms were not as drastic. We painted the living and dining rooms, as well as the laundry room, and recovered the laundry room floor. The list of "little" things could go on and on, but we suffice it to say we "decluttered" a LOT, and our house shows pretty well now. We've had lots of activity from the realtors in the three weeks it's been on the market. We're just waiting for that perfect offer. (We'd settle for "close" to perfect.) J
Baseball
<![if !vml]>
<![endif]> Spring has sprung, and our house if filled with the smell of leather baseball gloves (and sweaty socks, but we won't go there…) I love baseball, and I'm fortunate enough to share the love of the game (at least for now) with all three of my boys. This year has been cool because I have actually been able to coach all three of them. Nolan and Garrett are playing on the same Little League team, and Nate is playing Tee Ball. I asked one of my fellow Little League board members to work with me on the scheduling to minimize conflicts in schedules for practices and games, and we even managed to have the same sponsor for both teams! It has worked out really well, and I'm glad they all enjoy having Dad as their coach.
Mandy's Birthday
Let me tell you, I have never seen a kid count down the days to a party the way Mandy did hers. The poor girl had NEVER had a birthday party, and she was ready to make her eighth birthday one BIG P-A-R-T-Y!!! She kept adding invitees to the list, one after the other, until Kim finally had to say, "Enough!" We had eighteen little princesses in our home for the tea party and fashion show. Mandy invited them to wear their favorite <![if !vml]>
<![endif]>Spring dresses or princess costumes. She chose to dress as Snow White. Grandma helped me put her hair in sponge rollers in an attempt to curl it. The attempt was successful, and she enjoyed her bouncy curls for about three days! Her three brothers donned matching shirts and served the girls tea, finger sandwiches, and cookies. The girls created/decorated their own hats which they proudly displayed in the ensuing "fashion show". They were so fun to watch. Some really worked the crowd in the living room, spinning and twirling in their dresses, while others simply made a bee-line for their moms. I have to admit, I wasn't too excited about a house full of little girls, but we had a blast! Mandy really enjoyed it, and it was nice to have so many people come to make her day so special. We are truly blessed to be her parents. She has come so far with her grasp of English and with her responsibilities in our family, as well as with a very different form of schooling from what she had in China. She has had to adapt to so many different things since joining our family, and her progress is remarkable. We have had our tough days. There are times she doesn't really "like" her new Mommy and Daddy, and there are days we feel guilty because we don't really "like" what she's doing, but we love her, and she's learning to love us, too. She is really coming along in her dance classes. She loves music and especially loves ballet. She has some natural talent, and even though she joined her class late, she's caught up with the other students. It's fun to watch her because she enjoys it so much. (And that's saying a LOT because I can't stinkin' stand ballet!!!) She has become a very helpful big sister to Mia, even though they have their moments. We sometimes get frustrated with her need to be the center of attention, but then again, maybe sometimes that's good for her.
<![if !vml]>
<![endif]> <![if !vml]>
<![endif]>
April 4, 2008 – GOTCHA, GOTCHA, GOTCHA!!!
<![if !vml]>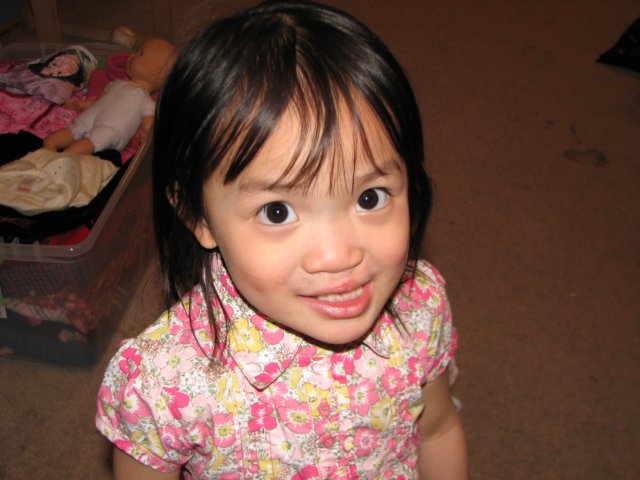 <![endif]>Two years ago, today, I became the father of my first DAUGHTER! She was placed in Kim's arms in a hot, humid room in the Civil Affairs office in Guangzhou and began screaming her head off! J Fortunately, that didn't last long. Over the past two years, we've been truly blessed by her smiles, her sense of humor, and her "princesshood". (Hey, it's my blog. I can make up words if I want to!) We've had our ups and downs, but it has been truly amazing to watch this girl who came to us as a scared and confused little toddler transform into our daughter – learning to love us and to accept our love, learning to fight with her brothers like every little sister should, then making them feel guilty and milking it for all it's worth. J God could not have planned it any better, and we are so thankful he chose us to be blessed by our Mia!
March 13, 2008 – I've been "tagged".
I was tagged by my beautiful wife, Kim.
HERE'S HOW YOU PLAY. ONCE YOU'VE BEEN TAGGED YOU HAVE TO WRITE A BLOG OF TEN WEIRD, RANDOM THINGS, FACTS OR HABITS ABOUT YOURSELF. AT THE END, YOU CHOOSE FIVE PEOPLE TO BE TAGGED, LISTING THEIR NAMES AND WHY YOU CHOSE THEM TO BE TAGGED. DON'T FORGET TO LEAVE THEM A COMMENT "YOU'RE IT" AND TO READ YOUR BLOG. YOU CAN'T TAG THE PERSON WHO TAGGED YOU. SINCE YOU CAN'T TAG THAT PERSON BACK, LET HIM OR HER KNOW WHEN YOU'VE POSTED YOUR BLOG SO HE OR SHE CAN READ YOUR ANSWERS.
So, here go my 10 random thoughts, in no particular order (hence, the word "random").
<![if !vml]>
<![endif]>
<![if !supportLists]>1) <![endif]>I'm flat-footed. If I'm on my feet too long, it will feel like the bottoms of my feet are being painfully stretched. Fortunately, ASICS running shoes prevent the pain better than anything I've found. (Nikes are the worst!)
<![if !supportLists]>2) <![endif]>I love baseball! (Betcha didn't know that!)
<![if !supportLists]>3) <![endif]>No matter how much they beg when I walk in the door after being gone, I refuse to kiss my daughters until I've kissed their mother.
<![if !supportLists]>4) <![endif]>I am sometimes aggravated by improper English. I quickly learned that people don't particularly like you when you tell them they sound like idiots, so I've learned to suppress this aggravation.
<![if !supportLists]>5) <![endif]>I wore glasses from age 9 and bi-focals from age 14 until I experienced the miracle of LASIK about 4 years ago. Going from 20/500 to 20/12 in 36 hours is a miracle!
<![if !supportLists]>6) <![endif]>I was voted "Most Likely to Succeed" by my high school senior classmates. (Man, what were they smokin'?)
<![if !supportLists]>7) <![endif]>I have, in fact, walked and chewed gum at the same time.
<![if !supportLists]>8) <![endif]>I have also walked and chewed tobacco at the same time, but not once in the past 11 ½ years!
<![if !supportLists]>9) <![endif]>I annoy my wife by constantly checking email on my phone.
<![if !supportLists]>10) <![endif]> I don't follow directions, well, and that's why I'm not tagging anyone else. (Not to mention the fact that my blogging friends have all pretty much been tagged…)
February 20, 2008
Sorry that it's been so long. Things have been crazy since the start of a new year. But, the Christmas decorations are put away, and things are returning to normal. Nate's officially a "big boy" now as he has lost his first two teeth. Mandy and Mia have started dance classes, and they are quite the talented princesses. Nolan and I have been taking guitar lessons together, and Garrett continues his drum lessons. AND, we're gearing up for a new baseball season! (Don't remind Kim of that, though. Not exactly her favorite time… She calls herself the baseball widow when I disappear for Little League Board Meetings, tryouts, draft night, etc.) As you can see from the photo album, we've also been re-decorating the house a little bit – just in time to sell it! J At least that's a possibility… The addition of two little girls and the extra space required to homeschool 4 out of 5 has made this house suddenly shrink. So, we are looking at a few houses in the area that are laid out a little better and that have some land for the kids to play. Wish us luck!
Mandy's surgery was scheduled for tomorrow, but she hasn't been able to shake the chest congestion and cough after the "bug" we all passed around. I came down with pneumonia the day after my last blog update and struggled for about two weeks. At one point, all seven of us were stuck in bed with whatever bug was going around. It was a tough one this year, as it took each of us 7 to 10 days to shake it, and then another week or so of feeling really tired. But back to the subject at hand, her surgery has been rescheduled for early April. The poor girl has to wonder if Mommy and Daddy are just teasing her about her new ear – this makes twice we got her all geared up and ready for it, only to tell her we aren't going.
The family is continuing to gel. Mandy has come a long way in 6 months, and so have her siblings. They all seem to have re-established their places in the family pecking order, and the shock of adding a sibling right in the middle of the ages of the others has finally been worked out. Like any set of siblings, they have their moments with each other, but they love each other, and we're starting to have some really good days to offset the rough ones. We are certainly blessed, even as we struggle through some of the challenges.
January 1, 2008 – Happy New Year
We hope you all have gotten off to a good start in 2008! We returned to the cold of Southwest Missouri after a week and a half with my family down south. It was good to get to visit with everyone. My parents and aunt and younger sister, along with her husband and two daughters, converged with us upon my older sister's house for Christmas. All together, we had 9 adults and 11 kids under on roof! If was quite a crowd, but we managed to coordinate shower schedules well enough. J My younger sister is living in California, now, where her husband is stationed with the Army. So, it was quite a treat to see her family. We're glad they could make it! The other visitors had to head home, but we were able to stay with Tracey, Rick, and the girls a few extra days through New Year's Eve. We had quite the party, playing Wii games into the New Year. :D
All of the kids had a blast this year at Christmas. Nolan got the long awaited PSP and some games to go with it. Garrett got a Nintendo DS and games. Mandy got the watch and Barbie computer she asked Santa to bring, as well as a doll house and fixtures to share with Mia, who got a new baby doll and baby bed. As usual, Nate had the "odd" request from Santa. He asked for a leather jacket like his Dad's, and Santa came through and also brought a four-wheeled scooter (way cool) and a stuffed doggie. Of course, Grandma and Grandpa, Nana, and the aunts and uncles loaded all the kids up with gifts, too!
It was a lot of fun watching Mia this year. It was her second Christmas with us, but she was only 2 last year, and Christmas is filled with so much more wonder and excitement when you're three! She had so much fun with the family this year! Mandy really enjoyed it, too. She was full of questions as she took it all in. She kept telling us, "Nothing like this in China! Christmas in China – Eat, Maybe watch TV, Go to bed." J She shared a lot of stories with the family about her life in China and about how much she is enjoying it here. She had lots of questions about Jesus and why we celebrate his birth and even deeper questions about how we got the Bible and why we believe it's true. She's pretty good at keeping us on our toes – and she's only seven! Yikes! I think the trip was really good for her and seemed to take another step in solidifying her understanding of her place in our family. When we got home, she smiled and said, "Daddy, I really like Christmas! This Mandy's first Christmas! I think it's really fun!"
It was fun watching the boys, too! They are all fun! Nolan is as passionate as ever, and while his competitiveness with the cousins' new Wii almost got him grounded a time or two, it was great watching his enthusiasm and excitement as he played with his cousins. Garrett's rapidly moving out of the little boy stage and into adolescence, and he's handling it well. He is such a caring kid. In spite of the pranks and one-line cutdowns, he hates to see anyone left out or treated unfairly (well, unless he and Mandy are having a bad day…) J Nate is still Nate! What else can I say? As long as he gets an occasional PB&J sandwich, he's happy. Santa could have brought him a rock, and he'd be satisfied. (But the leather jacket is SO COOL, Santa, that he wore it ALL WEEK! Even when he was just hanging around the house!)
Kim wasn't left out this Christmas. I got her the Cricut she's been wanting for two years. (For those not privy to the scrapbooking world, a Cricut is an electronic machine that cuts letters and shapes out of cardstock so that they can be used in scrapbook pages. That's the limit of my Cricut knowledge. If you need more info, ask Kim!) J
We are so blessed – not just by gifts and material "stuff", but by the wonderful gift that each of children is and by the love of our family. Patience wears thin when you have 19 people living in one house for a week, but nobody got hurt, and we love each other!
Click HERE for archived Blog posts.