Dad's Blog: 2006-2007
Click HERE to return to more recent posts.
December 7, 2007 – Sons and Daughters
Mandy had the opportunity to talk to her best friend who recently came home to America. She was very excited, but we were a bit shocked (and I think she was, too) when we realized she has forgotten most of her Mandarin. As I listened, I could hear her mixing English with her Chinese. The two girls struggled to communicate, and were able to ask and answer some very basic questions, but nothing past that. Nevertheless, she really seemed to enjoy talking to her friend. After we hung up, she said, "Mandy's English is LONG, but my Chinese gets SHORT!" We reassured her that she could talk to her friend again, soon, when her English got long, too. J A couple of nights later, we attended a Chinese music and dance performance by a group from Henan, China. The girls (and the boys) absolutely loved it. During a performance of a duet (a love song), Mandy leaned over to me and interpreted one of the lines that was being repeated, but later during another song, she asked, "Daddy, what's she saying?" J We saw our friend, "Scott" (from Shanghai), there. He hadn't seen Mandy in over a month, and he was amazed at her transition from Chinese to English. She tried to speak Chinese to him, but couldn't find the words. He praised her and told her she was a beautiful American girl, now.
This evening, I gave her goodnight hugs and told her I was glad she was my daughter. She asked, "What do you mean? Like money… 'Dollar'?" I chuckled and said, "No, baby. My daughter. The boys are my sons, and you and Mia are my daughters." She said, "Oh, ok." I thought she understood, then she said, "Mandy like to be your son." I asked her if she wanted to be a boy. She said, "No! Mandy a girl, but I want to be your son!" She could see my struggle to figure out what she was saying. "She said, you know. Sons come out of Mommy's tummy. Daughters come from China." J After some explaining, she got it. I told her, "Now that you're our daughter, it's no different than if you came out of Mommy's tummy. We love you just like we love your brothers. You are OUR daughter." She asked, "No different?" "No different," I tried to reassure her. "Yes," she said, "yesterday, I brush my teeth and look mirror. My hair… It's a little bit brown!" I had to bite my tongue to keep from laughing. Then, I tried to explain that God made Mandy, and for that matter all of us, beautiful, even if we don't look the same. She's still struggling with who God is, and this time of year is all the more confusing. She asked me, "You mean God, Baby Santa's daddy?" So, I explained the best I could (probably overwhelming her and sending her mind racing), pulled another of her loose teeth, and tucked her in for the night. J I'm not sure whether to laugh or to cry.
December 1, 2007
Thanksgiving Dinner is done, the Aggies beat the Longhorns… AGAIN, and it's once again time for me to climb out on the roof in the cold to transform our house into a light show. J I love Christmas, but usually dread the decorating. This year, Mandy is experiencing the sights and sounds of an American Christmas for the first time, and Mia is really getting into it much more than last year. So, it's actually a lot of fun. (Don't tell Kim though! It'll ruin my Scroogish reputation!)
We went to Georgia to visit Kim's aunt and grandfather over Thanksgiving. It was a great trip. It took us about 12 ½ hours over two days each way, but the kids traveled quite well, and we really enjoyed our time. This was Mandy's first time to meet her great aunt and great grandpa, and they welcomed her with their love and hospitality. She got a big kick out of her almost 93-year-old "Pa Pa". She also did surprisingly well with her great aunt's 113 pound Rotweiller, Reese! Reese is only 3 years old and still has a lot of puppy in her. She is loud and intimidating at first, but the kids fell in love with her when they realized she's not all that different from our yellow lab.
<![if !vml]>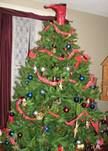 <![endif]> When we returned, it was time to drag all of the Christmas boxes down from the attic so Kim could begin the decorating. That meant Brad had to set up the tree and light it. Then Kim and the kids decorated the tree according to our family tradition – with western ornaments (saddles, horses, cowboys, Lone Stars, long johns, wagons, cacti, coyotes, etc.), red bandana ribbon, chile pepper lights, and finally, a red Justin roper boot to top it off!
We are looking forward to visiting more family during Christmas. Among others, we'll get to see my little sister and her husband and daughters who we haven't seen in a year. It should be exciting with 11 kids (well, 13 if you count my dad and me) in the house.
Everyone continues to do well. We are all healthy and keeping busy. Mia continues to develop into quite a young lady. She has decided it's time to wear big girl panties and potty in the toilet. So, our diaper days are OVER! J Her personality continues to develop, and we are so proud of her. She has now been a part of our family longer than she was in China, believe it or not! She is such a sweetheart with just enough mischief mixed in. In spite of some unexpected turnover in the speech therapy department, her speech continues to improve. We still have to build up those muscles that were simply not there due to her cleft palate, but her progress is amazing. Mandy continues to find her place in our family. She's still learning to trust and to love and to figure out what a family really is. Her English development seems to be picking up steam, and as she gains confidence in that area, she opens up more and more about her past and her feelings. One of her best friends – perhaps her very best friend – came home to America with her new family this week. Mandy is very excited about that, and the event has triggered lots of conversations about friends and events from her days in China. I know she thinks about her friends and former foster family there, and it seems odd to me that she doesn't show more emotion when speaking of them. She tells stories of times they laughed and times she was sad or got into trouble, but then she moves on to something else. I ask her if she misses China, and I'm not sure if she understands what I mean, but the answer is always, "No. I like it here." I asked her what she likes about America, and the first thing she said was, "In America, I get kisses." She went on to say she liked the bigger house and the toys, adding that she had no toys in China. I guess those are normal things for a seven year old to like. J Then, she shocked me. She threw her arms around me and said, "Thanks, Daddy, for bringing me to America."
November 14, 2007 – Insurance Woes, A Rock Concert, and Dads That Are NOT Cool
Well, I survived another long weekend without Kim at home – this time with FIVE kiddos! J Kim took a much-deserved break to do some scrapbooking and relaxing with friends at a cabin in Branson. So, I got to spend some alone time with the kids. We behaved for the most part and managed to keep the laundry and dishes done, and the house was still standing when Mom returned on Sunday afternoon. I'll admit to letting the boys play too many video games, but the girls took up a lot of Daddy's attention since they were out of sorts with Mommy not around. Mia was so cute. Several times a day, she'd come up to me, throw her hands out to her sides with the palms up and ask, "Where my mommy at?!" Each time the explanation was the same, but never was it sufficient. J
On Friday, we learned that the insurance company had denied coverage for Mandy's surgery that was scheduled for the 12th. So, we had to postpone it. We are confident it will be covered, but we are also changing insurance companies on January 1st. So, rather than fight the fight with the current company to get one surgery covered, then have to fight it again to get the subsequent procedures covered, we're just going to wait and knock it out once. Nevertheless, I was pretty frustrated on Friday when the fairly rude lady at Cigna was spouting off all of the conditions we had to meet in order for the surgery to be "medically necessary". I kept explaining, "My policy says that cosmetic surgery is covered if it is to correct a birth defect. So, I am not arguing medical necessity with you." Then, she'd start rattling off the conditions again… Oh well. After the monthly fights with them to get Mia's speech therapy claims processed, I'm not a big Cigna fan at this point! I've double-checked our new policy, and we have cosmetic surgery coverage for birth defects and no pre-existing condition clauses. So, we should be good to go in 2008!
Many of our friends know that Nolan, our oldest, is a fan of Christian rock music. I'm pretty diverse in my musical tastes, but some of the stuff he likes is way outside my scope of what's "good". Nevertheless, when we had the opportunity to go see Decyfer Down in our small town – and at our church building no less – I agreed to take him. It actually turned out to be really cool. Since our high school football team had a playoff game the same night, the turnout for the concert was weak. So, Nolan was able to get right up in front of the stage and enjoy the concert, and afterward, he was able to talk to all four band members and get their autographs on a Decyfer Down poster. It was fun seeing him have fun, and I have to admit the band impressed me.
Among the things Mandy learned while Mom was away is the rolling of the eyes! Every seven year old girl can do it, but Mandy has MASTERED it! I was clowning around with her this weekend. I threw my collar up, unbuttoned my shirt about halfway down, and broke out my best Bee Gees disco moves. Mandy asked, "What, Daddy?!" I said, "Isn't Daddy COOL?" That's when I saw it. The biggest eye roll I've ever seen. She said, "Uh… That is not cool, Daddy," and walked away. :D
I redeemed myself in another weekend conversation with her. I'll spare you the details, but we were both feeling down after I'd made one of those nasty parenting mistakes – thinking I needed to correct her only to figure out that my perception of what had happened was totally skewed. I asked for her forgiveness, which she gave. Then, a very interesting conversation ensued about some of the differences between her life in China and her life in America. I cherish those moments when the little window to her heart is cracked open, ever so slightly, and we get a glimpse of what's inside. The conversation ended with my promise to give her lots of hugs and kisses to make up for the years she went without them. The smile returned to her face as she said, "Yes. Mandy like that."
October 26, 2007
<![if !vml]>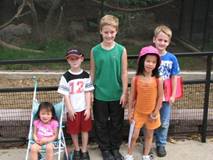 <![endif]> Fall is upon us. Once again, the weather is turning cooler before I am ready for it to do so. J My big plans for repairs and painting on the exterior of the house have gone another summer without completion, and cold weather and baseball don't mix well. So, my yearning for Spring will begin soon. J
We continue to be quite busy around here. We are still adjusting schedules to accommodate four kids in homeschool rather than just the two older boys. Obviously, that's a bigger load on Kim than it is on me, but I've been trying to help when I can. I'm the chauffeur for the doctor appointments as we get Mandy caught up on vaccinations and formulate a plan of attack for her ear reconstruction. Then there are the dental appointments and the other kids' occasional doctor visits, Garrett's drum lessons and Mia's speech therapy sessions. I feel like a "soccer mom". J Thank God for my flexible work schedule!!!
The kids are all doing well. The older boys seem to be re-gaining their interest in school. Nolan has always been the reading, history, and science fan, but math seems to finally be "clicking" for him. That's been fun to watch. He has also taken an interest in learning all sorts of new skateboarding tricks – much to the chagrin of Mom and Dad. L We fit in the occasional baseball practice, too. J Garrett continues to fly through his math and science assignments, but still isn't so fond of reading and studying history. (So much like his dad at that age…) He is also becoming quite the little drummer. He practices diligently and has impressed his instructor with how quickly he picks up the concepts. Nate is soaking up the early reading and math concepts. He still loves to play independently with his dogs (either stuffed or real) and his Imaginext figures. He takes great joy in picking on his older sister, as well. Mandy doesn't seem to mind. She is soaking up English, will happily sit and do math worksheets for hours, and is having a heck of a time adapting to Kim's "hands-on" teaching style. She would much prefer the Chinese style of 10 hour school days with drill after drill. J She works so hard in her efforts to impress her parents with her intellect. So, we praise the effort, but try to help her understand our unconditional love that is not earned. Mia's speech is improving quite a lot. It's been over a year since her palate surgery, and she's been in speech therapy for about 11 months. Our therapist is awesome, and Mia has finally gotten to the point that she is willing to work really hard even though she doesn't completely understand why she is supposed to suck pudding through a straw or blow bubbles in a cup or sing "AH" as loudly and as long as she can. Her personality is really beginning to show. She has the three-year-old characteristics all parents have seen, but fortunately, those are offset by her loving and considerate ways. She grows sweeter by the day and has developed quite a sense of humor.
Mandy is scheduled for the first of four ear surgeries on November 12th. She has microtia (deformity/smallness of the external ear) and atresia (deformity/absence of the internal ear mechanisms). Although she has "nerve hearing" in her left ear, there is not enough of a cavity for reconstruction of the middle ear. Also, since she has normal hearing in the right ear and appears to function well, the risk associated with reconstruction isn't appealing given the small benefit it would render. So, we will only be reconstructing the outer ear. She is nervous about the procedures and a little whiny about the long drives to Arkansas Children's Hospital in Little Rock, but she is excited about getting her "new ear". Apart from the medical procedures, we continue to make progress with her attachment, bonding, and "fitting in" with her new family. She has swung the pendulum from being totally independent and wanting none of our help to being far more dependent than most seven-year-olds and wanting our help with the most basic of tasks. This is actually a good thing and shows she is attaching to us as her parents. So, we do our best to joyfully grant her requests for help when everything in us screams, "You're a big girl! Do it yourself!" J She's also learning the tough lesson that she doesn't need to elevate our perception of her by pointing out the shortcomings of her siblings. This belittling of others was apparently encouraged by her foster mother in China, and we've had some challenges with that. It's gotten a lot better recently as we learn to communicate better. Overall, Mandy is a very sweet and caring young lady. She has learned to communicate her feelings, and it is so cool to watch her learn what it means to say or hear the words, "I love you." She was telling us the story of her coming to America, (I know. It sounds strange, but I think she needs to vocalize it to really understand it herself.) and this wasn't the first time she had told us the story, but this time, she ended it with, "Mandy very happy." HOW COOL IS THAT!?!
On the food front, she's is becoming an American. J Kim and I went on a date not long ago (the first date since returning from China) and had a babysitter come for the kids. We had pizza delivered and told the babysitter that Nolan could fix noodles for Mandy since she didn't like pizza. The kids were in bed when we got home, but the next morning, the first thing Mandy told me was that she ate pizza and it was VERY GOOD! She's still not fond of cheese, but if you load the pizza up with meat, she's all over it. J Her favorite foods have become (in an order that varies from day to day) tacos (no cheese, please), "sauce and noodles" (known by most of us as spaghetti), and fried chicken wings. She helped Kim make green chile enchiladas for me last night. They decided to "sample" some corn tortillas with butter and hot sauce, and Mandy actually liked it! When it came time to eat, Mandy plopped about three spoonfuls of "medium" hot sauce on her plate and drizzled a bit on her enchiladas then ate them (cheese and all). When she was done, she spooned up the hot sauce and ate/drank it by itself. Then, she looked at me with a bit of panic and grabbed her drink and gulped it down. I asked, "Too hot?" She replied, "No. Very good, but Mandy cry." In spite of the watery eyes and runny nose, she asked for seconds on the enchiladas and went for the hot sauce again! She becomes more and more of a Smith everyday. J
Of course, now when you ask Mia what she wants to eat, her response is "China food"! J She loves the new Chinese buffet in town, even though we all know that it is a far cry from real Chinese food. Perhaps we need to go back to Nanning for some spicy chicken! Yummy!
One last story. We took a camping trip in mid-October and my mom and aunt came to visit us at the campsite. My mom brought a couple of books that a friend had given my dad. The friend had heard that my dad had two Chinese granddaughters. So, he gave him a pictorial life of Christ in two volumes. It contains various sections of all four Gospels in both English and Chinese along with lots of illustrations. Mandy says she can't read all of the Chinese words, but she gets most of them and loves to read the books. What a blessing!
October 1, 2007
We are slowly getting back to a sense of "normality" around our house. The kids have pretty much re-established their places in the new pecking order. J Life with five young kids is crazy, but we're loving it. Kim continues to tweak the home school schedule to adjust to teaching four vs. teaching two as she did last year. I'm getting back in the swing of things at work, although I wish I had some vacation days to use. Those three weeks off for the trip to China and the adjustments at home didn't quite re-invigorate my enthusiasm for the old job. :D
Mandy continues to find her place in the family. She's come a long way in 2 months, and she seems to be learning a little more each day that our love for her is unconditional. She's not quite as scared when she makes a mistake, and she's beginning to really test the boundaries. That's frustrating at times, but we know it's a very good thing. She has become much more affectionate with us and has developed a healthy sibling rivalry. J Her English continues to improve rapidly – she's a sponge (when she wants to be). We are enjoying getting to know her better as she opens up little by little. Occasionally, something will happen that reminds her of something from her past in China, and she will struggle through the English and hand signals and sketches to convey the story to us. Sometimes the story is funny. Sometimes it's sad. Other times is downright alarming, but each story is another little window into what has made her who she is today – the circumstances that have formed the values and beliefs she has in her head and heart right now, as foreign as they may be to us.
September 4, 2007 – The Door to a Heart Opens Slowly
It's hard to believe it's been over 3 weeks since I've written anything! Those three weeks have been filled with ups and downs, as expected. We are reaching a certain degree of "normal", now. We are all back together as a family, and praise God for that! Kim and I missed the boys so much while we were gone, and the pleasure of being around them has not worn off yet. J
As much as Mandy was a Daddy's girl in China, she became a Mommy's girl at home. She really opened up to Kim and rejected me. Even the enticing invitation to Braum's with Daddy was turned down unless Mama and/or the siblings were invited. I'll admit it hurt a bit, but having been through it before, I was able to handle it. I know in time she'll really understand what a Daddy is, and the best way for me to help her to that point is to wait patiently – much like our Heavenly Father has to wait patiently on us when we just refuse to "get it". It didn't take long for her to turn around and come to the realization that she could open up to both Mama and Daddy.
On August 28th, I received my first totally voluntary hug and kiss from my oldest daughter. I received a few more on August 29th, and still more on August 30th. Needless to say, last week was a good week for me. J In learning to trust me, Mandy has also gained confidence in trying to communicate with me. She is no longer afraid or embarrassed to ask me what the English word for something is, and she's picking up on English quickly. She's teaching Ba Ba some Chinese, too!
Tonight, we had the longest and most open conversation we've had yet. We were riding in our van, and she sneezed. I explained that it is polite to cover your mouth with your hand when you sneeze. She immediately said, "Oh yes!" and began relating a story of how her foster-mother in China had told her the same thing. That led to many stories about things she had learned in China and things she had done with her foster-siblings, and also about times she had been disciplined by her foster-mother. Then she turned to some of the disagreements she'd had with her American siblings or times she'd disobeyed us. Kim and I explained that even in those times, we still love her very much and always will – that there's nothing she can do that will change our love for her. That was a concept that was so hard to explain with our language barrier, and we weren't sure she understood, but then sitting in the Sonic drive-in, Garrett decided to get into trouble. Kim had to get onto him. Once it was resolved, Mandy hollered out to Garrett, "Hey, Garrett! Mama say, 'No! No!', but I's OK! Mama still lova you!" I guess the point got through, and our van was filled with laughter! J
August 13, 2007 – Safe at Home
<![if !vml]>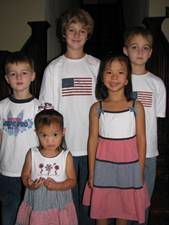 <![endif]> We made it home safely about 25 hours after our wake-up call on Friday morning in China! We flew Guangzhou to Tokyo to Detroit to home. All flights were without incident and fairly smooth. The short layover in Detroit proved to be a challenge as there we barely enough time to clear customs and immigration and re-check our luggage before a sprint to another terminal for our next flight. We got there just before they shut the door – a little winded, but it probably did us some good to make that jog. J Mandy handled it like a pro! She ran right along with us with a backpack of about 20% of her weight strapped on her back. With the landing of each flight, she would ask us, "Brothers?" "No, Mandy," we'd reply, "we'll see our brothers tomorrow."
On Saturday, Grandma and Grandpa brought the two ge ges and one di di home, and Mom and Dad have been chopped liver ever since! The boys are treating her like a true princess. She wants for nothing! J It is pretty cool to watch them shower her with love! Mandy took up pretty well with Grandma and Grandpa, too. They went home on Saturday night, and several times on both Sunday and Monday, she has asked to see them. We're having trouble communicating how far away they live, but I think she is starting to understand.
Church on Sunday was a hit! She really enjoyed Sunday School and jumped right in, participating with the other kids, even though she didn't understand all of it. She insisted on repeating the memory verse as the other girls did. She didn't understand it, but she parroted the teacher perfectly. J In the worship service, we introduced her to the congregation, and she wasn't a bit shy to be in front of everyone.
Sunday afternoon included some Ma Ma and Ba Ba time for Mandy and Mia as the boys went to visit friends from church. Sunday evening and most of the day Monday featured more of the princess treatment from her brothers. They continue to get along very well, and Mandy is adjusting beautifully. Here are a few of the things we've noticed her "observing" since she's been here:
1) Not only the refrigerator, but the crushed ice dispenser in the door!!! What a country!
2) The many flavors of ice cream at Braum's! Lime sherbet is a hit, and she intends to try all of the others this month!
3) When she tells someone she loves them, they always answer, "I love you, two." But when she says, "I love you, three," they just laugh at her.
4) At Wal-Mart in China, when she picked things up and asked, "Mandy?", Ba Ba always said, "Yes." At Wal-Mart in America, when she picks things up and asks, "Mandy?", Ba Ba always says, "No!" She's working on that!
No Blog Updates while we travel July 27th through August 10th. Please check out our Travel Journals and Photo Pages!
July 25, 2007 – Let the countdown begin!
The house is cluttered with suitcases and paperwork. My nerves are chicken-fried. And I am extremely anxious. Nonetheless, I'm incredibly happy. While I hate to leave the boys for two weeks, even though I know they'll be well cared for, and I don't look forward to the marathon flights, I know it will all be worth it when we meet Mandy for the first time on Monday! Thanks to all of you for your prayers and support! We hope you enjoy our travel journals and photo albums while we're gone!
July 19, 2007 – Praise God!!! We are even closer!!!
This has been one of the most hectic but rewarding weeks of my life. I left on Monday to go to San Antonio for meetings I really had no interest in attending. J Since we were riveted to our email accounts each morning for the past few weeks, anxiously awaiting our Travel Approval from China, I wasn't the least bit interested in leaving my family to go attend Sales meetings. As it turned out, the meetings weren't all that bad. I had the opportunity to visit with colleagues I had not seen in quite a while, and it's always nice to return to the Motherland! Alas, as we kicked off our last day of meetings on Wednesday morning, I got the call from Kim. As soon as I answered, she said, "The boys need to tell you something." She turned on the speakerphone, and the three boys screamed with glee that our TA had arrived! It's nice that the kiddos are as excited as we are! I finished up my meetings, caught the flights home, and began working on travel arrangements, web site updates, and oh yeah… catching up on work! J Now, I finally have time to update my blog, and at this point, we've nailed down our Consulate Appointment with the U.S. Embassy in Guangzhou – August 7th at 10:30AM, and we've nailed down our travel plans. We'll be flying out on Friday, July 27th and returning on Friday, August 10th. It will be another whirlwind trip, but we are so excited! Mandy and we will be united as a family on July 30th!!! I'm sure I'll post here again before we leave, but be sure to follow along on our journey through our Travel Journal pages.
July 2, 2007 – We are SO close!
We now start the fourth week of our wait for Travel Authorization. (Counting the wait from the day our signed Letter Seeking Confirmation was return to the China Center for Adoption Affairs.) Unfortunately, that means we are dangerously close to setting the record for the longest TA wait our agency has seen since the introduction of the Letter Seeking Confirmation to the adoption process! We already hold our agency's record for the shortest time between TA and travel for our last adoption, but I'm not too interested in setting this new record! Nonetheless, God's timing is perfect, and our trust is in Him. While we long to go get our little girl, and the anxiety is beginning to creep in now that we are so close to travel, we know God has a plan and timeline that we don't see or understand. And since he is so much better at the details, I am content to let him handle them! J (Like I really have a choice!) J We are blessed in the fact that very soon we will have completed two adoptions from China in just over two years. So, I am in no position to complain or question God's plan. I definitely feel for those of you who are reading this blog who have waited two years and more and still have yet to see your child's face for the first time.
Very soon, though, you'll hear the excited shouts for joy from Southwest Missouri as we receive permission from the Chinese government to come and get our Mandy!!!
June 8, 2007 – The Coveted LOA has Arrived!
<![if !vml]>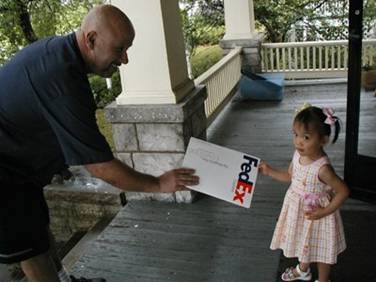 <![endif]>
Recently, The Chinese Center for Adoption Affairs implemented a new "step" in the process. Before you get Travel Approval, you get a Letter Seeking Confirmation from the adoptive couple. Basically, it's one last time for China to say, this is the child you are adopting, are you sure you want to adopt this child? I don't get it… Who is going to get to this point and say, "Um, well, no…" At any rate, it adds another milestone to celebrate, and today we are doing just that. The letter is also known as "LOA" (not real sure what that stands for), and ours arrived today! So, if we follow the "averages", we'll have TA (Travel authorization) in about three weeks, and we'll be headed for China in four or five weeks – perhaps the second or third week in July! We are very excited! This letter brings another level of "reality" to the situation, and today I began a bit of a panic as I realized we have about a month to tie up loose ends and work out details related to our trip. So much to do!
The past month has been filled with lots of special moments as we watch God prepare our hearts and the hearts of our children for Mandy's entry into our family. I won't repeat the details I think has already shared in her blog, but these kids and their loving hearts have truly been a blessing to us and to those around us. God has been so good to us!
As we prepare to add another child, we came to the realization that our seven-passenger Ford Windstar would no longer suffice. While it is called a seven-passenger van, if the three sharing the rear seat are over 35 pounds each, it is quite cramped. And with 140,000 miles on the odometer, good old Bessie had seen her better days. One day, as we drove by the Chevy lot, I spotted a used Chevy Express 3500 Van – that's right – the big one that serves a lot of churches as a church van! We stopped to take a look at it, and over the next few days were able to negotiate a very good deal for it. So, functionality has conquered fashion, and Mrs. Smith now resembles Dale Jarrett racing that UPS truck! J
Thanks to all of you who have kept up with our web site, prayed for us, sent us cards and emails, ate our pancakes, bought our jewelry, or in any of the countless other ways helped us along this journey to our daughter! We will never forget you!
May 2, 2007 – Happy Birthday, Mandy!
Today is Mandy's birthday! That fact cast a strange mood on my day and made me feel a little blue. It's hard to describe. It hasn't been a sad day or depressing day. It has simply felt like something is missing. Mandy has been on my mind all day – even more than usual – and in my prayers. It's funny how God can place a child in your heart and "connect" you to her even when you've not yet met her. In that sense, she has already become my daughter. At the same time that I feel this void that will only be filled when Mandy comes home, God has granted me a sense of calming peace. He has given me comfort in the knowledge that he is in control and that I am but a small part of his bigger picture. So, I have contentment, at least for today, as I wait for permission to go get my beautiful seven-year-old from Guilin. For that, I am truly grateful!
April 30, 2007 – Opening Day
<![if !vml]>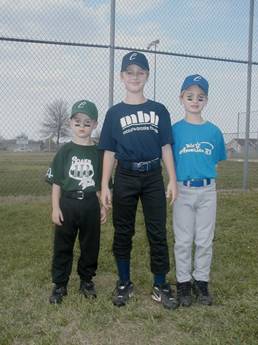 <![endif]> Let the games begin! Today is opening day for our local youth baseball league. Most think I'm crazy, but for me, this ranks up there as one of my favorite days of the year. The next couple of months will be crazy for us as we try to keep up with three different sons playing in three different divisions, but it is a blast watching the extra spring in their steps when they don their uni's, grab their equipment bags, and head off to the ballpark. Little known fact: Eye-Black has been proven to boost confidence by 17.367%, on average. J (or is that only true at our house?)
April 5, 2007 – What a Difference a Year Makes
OK, so I'm a little slower than Kim in writing about the first anniversary of having Mia placed in our arms… What a year this has been! It's certainly been different having a little girl in the house, but it has been wonderful. Mia has fit in so well with the boys, and we are anxiously awaiting the addition of Mandy to balance things out a little more! I thought rather than me getting all emotional and gushing about the highs and lows of the past 12 months, you might just like to see some "then and now" photos. So, here ya go…
<![if !vml]>
<![endif]> <![if !vml]>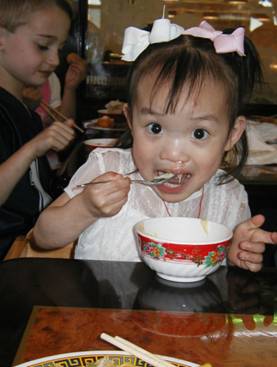 <![endif]>
<![if !vml]>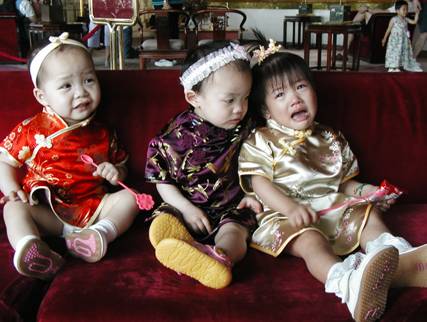 <![endif]> <![if !vml]>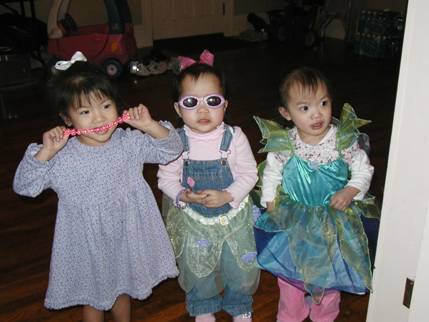 <![endif]>
March 23, 2007 – Officially Waiting J
Our dossier was sent to China on Wednesday, March 21st! We had another little snafu with the Department of Homeland Security – Citizenship and Immigration Services. Seems that despite taking my fingerprints both electronically AND on the old-fashioned ink card, the fingerprint tech was not able to get acceptable prints for the FBI background check. (It's not totally his fault. My fingers are in bad shape with lots of scars and blemishes, but this is the first time I've ever had an agency report that they are unable to do a background check with them…) At any rate, since the dossier was sent with our old I-171H, this won't slow us down. We just need to figure out what all USCIS needs from us, and I'll take care of it asap.
"So, what's with the Dave Ramsey feed on your blog page, Brad?" If this is the question you're asking, read on… Kim and I have always known we needed to pay better attention to our money matters. We've not been in bad shape – our income has grown significantly in the almost 13 years we've been married, and we've kept the bills paid. It just always seemed like any time we got ahead, something would happen – a medical emergency with one of the kids, a job loss due to "downsizing", a car breakdown, or a foolish impulse purchase – and we'd pile on some more debt. We used credit cards as a safety net to deal with emergencies, and if the "emergency card" filled up, we'd get a wonderful letter stating that we'd "earned" a credit increase, or we'd just send in one of the many applications arriving in our mailbox on an almost daily basis. Sound like your financial plan? The more we talk to people, the more we realize that this seems to be the American Way! We have been a bit rebellious, though, in that we haven't had a car payment since mid-2005! At any rate, we're sick of it. The bible says that the borrower is slave to the lender, and I'm no longer going to be a slave to Citibank, Discover, or… …and this one hurts the most… …Home Depot. J We've enrolled in Dave Ramsey's Financial Peace University. We're just getting started, and given the fact that we're about to go to China to get our second daughter, the timing is strange, I know. But we're using Dave's principles to handle the adoption expenses the best we can, and once we're home with Mandy, we are attacking the Debt Snowball! (This is the point where you can imagine Kim rolling her eyes, as I've become just a bit too excited about this.) J Anyhow, if you're in the same boat, I'd encourage you to seek out a good plan of attack, and Dave Ramsey's methods are simple and straightforward. You can hear Dave on the radio during his three hour nation-wide show, and you can find more info at http://www.daveramsey.com.
OK, enough of that. Back to the matter at hand… We are still awaiting PA (Pre-Approval) of our Letter of Intent to adopt Mandy. Once we have that, we'll be able to send her a "care package" with family photos and gifts to help prepare her for the transition. I'm still hopeful for July travel, but I know that is a bit optimistic. Given the miracles God put together when we traveled to get Mia, I've learned that optimistic is actually realistic. God is in control, and he is BIG enough to handle all of our travel schedules! J
March 7, 2007 – WAITING
Here's the latest update on our adoption status. We have gathered all of the paperwork necessary for our dossier (the collection of documents that go to China). We are waiting for our Texas documents (birth certificates, marriage license, etc.) to be certified by the Texas Secretary of State. This basically just certifies that the documents and the stamps, seals, and notarizations they bear are legitimate. Our Missouri documents have already been certified and are on their way to the Chinese Consulate in Chicago for consularization. The certified Texas documents will be sent to the Chinese Consulate in Houston. After consularization, the documents will all be put together as our dossier and sent to China. We'll then wait for China to review the dossier and send us approval with one final request to indicate that we want to adopt Mandy. A couple of weeks after that, we should receive Travel Approval. At that point, we'll schedule an appointment with the U.S. Consulate in Guangzhou (to get Mandy's U.S. visa for her trip home), and that appointment will determine our travel date! We hope that will be in July, but that's probably a bit optimistic.
The "process" described above is a little more complex than I've made it sound. There are forms to deal with from the United States Citizenship and Immigration Services division of the Department of Homeland Security, there are Chinese visa applications, and a few other logistics details to work out. For the most part, however, we are in the hardest part of the process, which is "the wait". Any adoptive family can tell you that once you have the "busy-ness" of the paperchase completed and you reach the point where you are waiting for everyone else to do their parts – parts you cannot control – your days seem to drag on more slowly, the emotions seem to run on exaggerated peaks and valleys, and patience wears thin. If we learned anything through our first adoption, though, it's that God is in complete control. Delays that were so heartbreaking last time have actually assisted us this time around. For instance, an unexplained delay in the processing of our immigration documents (the I-171H, for those who speak adoptionese) last time seemed devastating, as it delayed our dossier being sent to China. Since we originally filed that application with a request to adopt two children, though, the delay in processing means the original application is still valid, and we can send our dossier to China with the original I-171H. That cuts about one month out of our "wait". So, that is just one of many examples of evidence that God is much bigger than this process, and He knows what is best for us and for Mandy. Even delays or circumstances that we see in a negative light are a part of His plan and work out for the good of all involved. So, we put our trust in Him alone, and the date we will meet our daughter will be determined in His time.
What we could really use right now are some pictures of Mandy! J While we waited for Mia, there were other families who visited her orphanage and were kind enough to take photos for us. Unfortunately, we haven't been able to experience that blessing this time. We still hold out hope, though, for an updated photo or morsel of information about our little girl.
In the meantime, we enjoy the diversion of baseball! ;) Spring Training is underway, and the MLB season begins in just 25 days! At least for now, the Rangers are in contention for the Pennant!
February 2, 2007 - BIG NEWS!!!
Well, if you're like most people, the majority of the time you spend on our web site is used to look at pictures. If that's the case, you've already seen our precious new daughter. That's right! We will be returning to China to add a second daughter to our family!
Kim and I have spent time with quite a few families who have adopted multiple times from China. When we began our journey to Mia, we talked with a couple who had just begun their journey to their second daughter from China. The husband of that couple told me, "If you do this once, you're going to want to do it again." From that moment, I've always anticipated adopting from China a second time. However, I was scared, quite frankly, by some of the challenges we encountered with Mia's bonding and attachment. Mia and I made it through those battles – and relatively easily compared to the stories we've heard from others – but I just wasn't ready to take the chance that we'd adopt a second daughter who might not attach to me and see me as her "Daddy" quite so easily. In self-defense of my heart, I refused to even talk to Kim about a second adoption.
Along came Mei, a beautiful little girl on a Waiting Child list from an agency with which we had no relationship. (A Waiting Child list is a list of children considered to have special needs. The list is sent to an adoption agency, and the agency is responsible for finding families for these kids.) Kim really felt drawn to this girl, and she worked on me until I finally decided that if she was right, and God was leading her to this girl, then I should not be the one to stand in her way. So, we submitted our application to that agency for Mei, and we were quickly notified that Mei had been assigned to a family who was further along in the process and had an established relationship with her agency. "So," you ask, "what about Kim's conviction of 'God's Will'?" Well, God did not intend for Mei to be our daughter, but he did use Mei to re-open my heart to a second adoption. I knew God was calling us to adopt again, and He required me to set my fears aside and follow him. So, we did.
In late November, we submitted our application to Dillon International – the same agency who facilitated our first adoption. We pulled together the paperwork and began the process, again. We did not know how we would finance the adoption, but if God was truly calling us to follow him in this, we had to trust him to provide the means to do so.
In early January, Dillon sent notice that they had received a new Waiting Child list. We were ecstatic! Even though we were in the very early stages of our "paperchase", we just knew our next daughter would come from this list. When we heard of an almost two year old with cleft lip and palate – very similar to the initial report we had on Mia – we rushed to fill out a request for information. Surely, this was our daughter! Our request was granted, and we were given a password to review the pictures and basic information for the remaining children on the list. We sat down together in front of the computer and typed in the password. When the web page came up, the first child we saw was Wei Dan Na, a six-year-old. I immediately asked Kim, "What about her?" I was quickly answered, "Just scroll down and find the two-year-old." We did, and we requested more information on the two-year-old, but just as with Mei, another family who was further along in the process was given the opportunity to become her family. We were initially disappointed, but quickly moved to an attitude of praise. God had placed this little girl and Mei with families who would love and care for them, and our daughter was still out there… …somewhere.
Over the course of the next three weeks, the six-year-old Wei Dan Na was on my mind and in my heart constantly. I dismissed it as some sort of emotional attachment to her striking photos we had seen on the web page and tried to clear my head. But that did not work. I asked Kim several times, "What about that six-year-old?" She reminded me of the challenges with meshing an older child with our family and the disruption of birth order. I continued to squelch the prompting I felt about this girl. Finally, just one week ago, in a very emotional and mildly tearful conversation, I told Kim I couldn't continue to ignore the call. I was firmly convinced that God was leading us to this girl. Just as I had determined with Mei, Kim said, "If you truly feel God leading us to do this, then let's do it!" I am so in awe of the way she set aside her fears and opened her heart to a direction of the Spirit which was outside of what she had expected, and certainly outside of her comfort zone. That is exactly what she did, and after a lot of prayer and soul searching, we submitted an application to be considered as a prospective family for Wei Dan Na.
I need to step back one day. On Sunday night, I was going through mail we had received over the weekend. In this mail, I found notices from our insurance company stating some well-check and immunization claims for our kids had been rejected because the pediatrician was not "in network". I was confused. We had renewed our insurance for 2007 through my employer, and I was under the impression that it was the same plan, same coverage, same network… But it wasn't. We were with the same insurance company, but the network had changed, and the kids' pediatrician, the doctor Kim and I used, and Mia's speech therapist were all out of network, now. I was LIVID. I was able to call on Monday morning and get exceptions so that our visits up to now were covered, but we would have to find all new doctors. I say all that for a reason. Please read on. Before our request to be considered for Wei Dan Na could be accepted, Dillon required that we discuss her medical needs with a physician to be sure we made an informed decision and were prepared to care for her. Wei Dan Na has a deformed left ear and is reported to be deaf in that ear. When I visited with the otolaryngologist (ENT) about her ear, I was excited to learn that the ear can likely be reconstructed, and there is a chance that hearing can even be restored! There was a kicker, though. Nobody in our area specialized in this sort of plastic surgery. If the girl was placed with us, we'd have to travel to one of two hospitals, each several hours away, to have the surgeries done. I immediately went to check out our new network to see what sort of coverage we might have. As it turned out, this new network about which I had been so angry just hours earlier was a nationwide network, and both of these hospitals were covered! They would not have been under the old network. At that moment, I got goosebumps. I was reminded of God's constant provision in our lives, and I was humbled. I was also convinced that God's purpose for us was to adopt Wei Dan Na, and this was just one example of God providing what we need to care for her. We received word from the agency that there was another family who had expressed interest in her, and we would have to wait for their Social Work Committee to meet and determine who they felt was the best family for her. Our sincere prayer was that God would guide the hand of that committee to make the best decision for that girl, but in our hearts, we were convinced that we had already been given our answer. We just had to wait until the next Tuesday for it to become "official".
We would not have to wait that long. On Thursday (yesterday), we received a call from the agency telling us that the other family had chosen not to pursue the adoption, and that the agency would be quite comfortable in recommending us to the Chinese Center for Adoption Affairs to be Wei Dan Na's family! So, the paperchase has hit full steam, once again, and with a renewed vigor and motivation! We are so thrilled to know we will bring this wonderful little child of God into our family. Sure, we have questions about adopting an older child – how we will help her through the grief of "losing" her foster family, how we will help her bond to and attach with us, how she will adapt to life in our home, how she'll communicate when she doesn't speak English, and we don't speak Mandarin Chinese, how we should decorate her space in our home when we don't know her tastes, and where will we find a dress with a "feather belt" like the one her caretakers say she likes so much? And what exactly is a "feather belt", anyway? Again, we are reminded that God will provide what we need to care for our daughter, including the wisdom to deal with these and other issues. We just have to trust in him.
Our information on our newest daughter is limited. From her referral, we know of her medical needs. We know she has been in the Guilin City Social Welfare Institute since she was three days old, and she has been in foster care for the past year and a half. She is involved in Half the Sky's Little Sisters program. She goes to school and studies hard. She likes music, loves to paint, and is described as "dancing better than most children". (Maybe she can help Daddy in that area.) J We pray that God is preparing her heart for the transition she will be making this summer. We can't wait to bring her home!!!
January 18, 2007
Only 28 days until Major League pitchers and catchers report to Spring Training! (Maybe by then all of this ice will be melted!) If memory serves me correctly, every team that has fired Buck Showalter has won the World Series the following season. So, the outlook for my Texas Rangers is pretty good! That is, if they don't shoot themselves in the foot, which is the direction they seem to be headed…
I've been a Rangers fan for a long time. Short of being a Cubs fan, or maybe a White Sox fan up until the 2005 season, I can't think of anything more painful. There have been bright spots along the way. I had the pleasure of seeing Nolan Ryan pitch and watching him overshadow Rickey Henderson of the Oakland Athletics. (Nolan got Rickey for the last out of his sixth no hitter, and on the night Rickey set the stolen base record, Nolan got his seventh no hitter, reducing Rickey's accomplishment to a footnote on the sports headlines.) I remember being amazed by a young Ivan Rodriguez when he was called up and immediately displayed that rocket he called an arm. I can even remember the long winning streak in '91. Even that, however, could not bring home the American League West Championship for my home team. When they finally did take the division in '96 and '98, they had to face the mighty Yankees in the first round. Nevertheless, I stuck with my team.
As this season draws near, I am excited by the prospect of the "Buck Showalter Blessing" coming our way. But yesterday, the news came out that the Rangers have agreed in principle to a deal with… …Sammy Sosa???!!! Looks like another LOOONG season for the Texas Rangers Fan!
January 14, 2007
Happy New Year! We're dealing with the worst ice storm I've ever experienced. We're really lucky that we only lost power for about 3 or 3 ½ hours. We saw some fireworks as the high voltage lines across the street were weighed down by ice and bounced off of one of the rooftops. Lots of arcing and noise, but fortunately no snapped lines at this point. A huge tree next door snapped and fell under the weight of the ice. Praise God it missed our van, if only by six inches!
We hope your holidays were enjoyable and blessed. We enjoyed ours this year and spent lots of time with family. Now that the holidays are over, it's back to the typical year beginning stuff at work… planning meeting after planning meeting… So, by March, we ought to have a good idea of what we want to accomplish in 2007. J Sprint announced another 5,000 layoffs. So, I'm hoping my friends and co-workers fare well through it all.
We're in the middle of basketball season now with all three boys playing. Of course, basketball is just preseason training for baseball season. ;)
Hope you're all doing well and keeping warm!
November 28, 2006
The past month has been filled with fun as we watch Mia learn more and more. Her speech therapist is amazed at her comprehension of English after less than eight months of exposure to it. She's making good progress in learning to speak properly after her surgery, and we thank God for that. We spent Thanksgiving in Texas with Kim's family and enjoyed seeing her aunt and grandfather who flew in from Georgia. In between the prayers of thanks for everything God has done for us this past year, we ate way too much and watched too many football games. (Kim and Garrett celebrated the Cowboys' win – man has Tony Romo revitalized that team or what?! Nolan and I celebrated the Chiefs' victory, and we all thoroughly enjoyed watching the Longhorns of Texas fall to our Fightin' Texas Aggies!!! GIG EM'!!! Unfortunately, that puts OU in the Big 12 Championship game, but maybe Nebraska will come through for us and beat them soundly. J ) We are home now, and Kim is busy decorating the house for Christmas. I love this time of year, but man does it get busy! I will enjoy reading the Christmas cards that I'm sure each and every one of you will send us! ;) I'll close for now. Remember, only 79 days until pitchers and catchers report to Spring Training!
October 24, 2006
Is four months too long between journal entries? Well, probably so, or at least that's what our friends are telling me! J
These past months have brought lots of change. The surgery I spoke of in my last entry was postponed three times and finally took place on September 15th. It went quite well, and she is recovering nicely. Hopefully, she'll heal up, and we can avoid having to go through any more for a while. My favorite change is with her bonding and attachment with Daddy! Mia bonded well with Mommy, but it took a little longer for us to build that relationship. I didn't realize it at the time, but I went through a period of a little bit of depression as I longed to be recognized as her "Daddy". Around Labor Day, we had a huge breakthrough, and our relationship improved drastically. Kim and I are still not exactly sure what triggered it, but she opened up to me. Rather than being her "entertainer", Mia clearly began looking at me differently. She began to hug and kiss me on her own, without being prompted or asked, and when she hugged me, she REALLY hugged me. She looked at me differently, and she no longer cried in terror when I cradled her in my arms and held her close. The metamorphosis amazed me, and I am blessed to be called, "Daddy" by my beautiful daughter. (Well, ok, she actually calls me, "Thaggy," but we're on the waiting list with the speech therapist!)
The boys are doing very well, too. Nate had his big 5th birthday this month. It's amazing to watch him grow up. His sense of humor continues to develop. (I'll spare you the 5-year-old version of the knock-knock jokes.) J We were thrilled to see Garrett baptized by Grandpa in August. We are so proud of the way he is maturing! Nolan is enjoying watching his favorite Cardinals in the World Series. They're up 2 games to 1 tonight, and we're hoping they take the championship! Then, we can move on to basketball season (all three boys are playing this year), which, as you all know, is merely something to fill the time until baseball season starts again!
June 14, 2006
Mia has been home for TWO MONTHS! In some ways, it seems like it's been such a short time, and in others, it seems like our trip to China was AGES ago! Quite a lot has happened in two months – many doctor visits to catch up on immunizations, formulate plans for her palate repair, monitor her physical adjustments, etc… visits to government agencies and offices to finalize paperwork, trips to visit friends and introduce Mia to our extended families. What a whirlwind! As busy as we've been, we've been blessed! We are so thrilled by the warm reception Mia has been given by those around us!
Mia continues to adjust to her new family and home. She "emerges from her cocoon" a little more each day. It's wonderful watching her blossom as she learns to play and interact with her brothers and other children. She's slowly but surely picking up on the English language, and we've been using some sign language to communicate. She blew us away with how quickly she picked up on that! One of the challenges with adoption is developing the bonding and attachment that usually comes naturally with biological children. Mia didn't hear our voices when she was in the womb; our faces weren't the first she saw when her beautiful young eyes began to focus; and she doesn't quite comprehend the idea of having a "Mommy" and "Daddy". It will take a while before we are more than replacements for her previous caregivers and become her trusted parents. I long for the day when she looks into my eyes with the recognition that I am her "Daddy". I long for it so much that it is often painful when I see the nervousness or fear in her eyes when she's confronted with something new in our home. I just want her to feel safe and secure and want her to know beyond the shadow of a doubt that Mommy and Daddy are here for her. I know that day will come.
Physically, Mia is doing well, too. She's not gaining weight like the doctor would like, but he's measuring her on an American growth chart rather than an Asian one. Perhaps we'll share an Asian chart with him to show she's actually doing quite well! J The visit to the ophthalmologist revealed that she is more far-sighted than most kiddos her age. So, we'll watch that and see how she develops. We have her palate repair set up for late July. That will be a challenge, but the sooner we get it done, the better for her speech development and overall health. (Children with unrepaired cleft palates are prone to sinus problems and commonly suffer from ear infections and hearing loss. The Eustachian tubes actually interact with the palate through a muscle between the two – something I didn't know until our first ENT visit…) Mia's medical plate will likely be full for a while, but we'll get through it all by the grace of God.
The boys are doing well, too. This web site has been centered on updates on Mia which has kept us from sharing much news about them, but we are so proud of them! We're wrapping up the baseball season. Garrett has been playing in the machine-pitch league, and his team will take first or second place, depending upon the outcome of tomorrow night's game. I'm managing Nolan's Little League team, and we won't be taking first or second place, but that's ok. We've had a blast this season with a great group of boys, and they've all learned a lot about baseball and teamwork. Nolan got to be a relief pitcher this season and racked up a few strikeouts, and he'll be playing in the city All-Star game. So, he's excited about that! Nate won't get into T-ball until next year, but he's having fun practicing with his big brothers and playing with Mia during the games. He is still an animal lover and constantly tells us we need to get more dogs.
I'll close out the journal entry for now. Once again, I want to thank all of you who have supported us with your words of encouragement and most of all your prayers. We love you all!
Click HERE to return to more recent posts.